Chocolate and honey detox decadence for two with champagne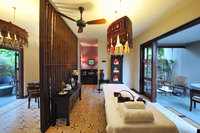 Experience our deliciously decadent yet health inspired hand blended body treatments using natural unadulterated ingredients of chocolate, bee honey, Sri Lanka red rice and refreshing cucumber.
Perfect for Valentine's Day. Perfect for honeymooners.
This body treatment commences with the deep exfoliating application of our Sri Lankan red rice and fresh milk body glow.
Next enjoy the richness of the cocoa bean as our chocolate and honey body wrap is applied all over your body.
Full of anti-oxidants to protect skin from short and long term damage caused by free radicals in our lifestyle and environment this chocolate and honey wrap is very hydrating, nourishing, energising and certainly decadent! Enjoy a head or foot massage whilst your wrap is setting.
On removal of the chocolate and honey wrap enjoy a full body massage with a choice of essential oils in sweet almond oil to nourish your skin and relax the mind.
Lastly, your skin will be left glowing and your mind calm and still as a natural cucumber body toner will be applied to your skin for ten minutes before we prepare an aromatic herbal oil bath for both of you whilst you relax with a glass of champagne in our Reefresh garden.
We'll then close the doors whilst you enjoy the seclusion and privacy of the candlelit spa to yourselves whilst you soak in the herbal oil flower bath under floating frangipani petals for 25 minutes.
Botanical Benefits
Red Rice a rich source of Vitamin B1 & B2, iron and calcium and rich in fiber content provides a gentle exfoliating treatment when blended with milk.
Chocolate - moisturizes, softens, smoothes, firms and tones the skin leaving a luminous glow.
Cocoa contains glycerides which deliver moisturizing lipids and fats which plump out wrinkles.
Smell is a most powerful evocative sense, stimulating memory and emotions and the scent of chocolate stimulates your "happy feeling" endorphins.
Honey
Being completely natural, bee honey is free from harmful chemicals is a miraculous product of honey bees.
The fascinating process of making honey begins when the bees feast on flowers, collecting the flower nectar in their mouths. This nectar then mixes with special enzymes in the bees' saliva, a process that turns it into honey.
The bees carry the honey back to the hive where they deposit it into the cells of the hive's walls. The fluttering of their wings provides the necessary ventilation to reduce the moisture's content making it ready for consumption.
Honey is a known humectant, which means it works as a natural moisturiser. It is hydroscopic, drawing pure moisture into your skin to help hydrate, smooth and soften.
Honey and can help alleviate any se sun damage by eliminating the free radicals caused by sun exposure.
Honey is a source of vitamin B2, vitamin B6, iron and manganese and has soothing properties make it feel good when applied too.
Honey is natural and easily absorbed by the skin.
US$ 445.00 (for two persons) including for one bottle of Champagne
Time: 2.5 Hours

For more information, visit reefvilla.com.