Finnish festivals with a difference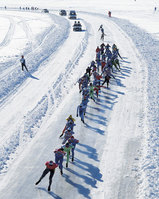 Finland, renowned as a land full of interesting peculiarities, is staging an array of festivals and events across 2013 that really reflect the country's distinctive cultural spirit.
As in most must-visit destinations, numerous annual music, food and film festivals are scheduled to celebrate Finnish talent around the country this year, but it's the more uncommon events that make a trip to Finland a truly memorable experience.
Here's a round-up of some of the most unusual forthcoming events taking place around the country:
Moomin Winter Magic 16 – 24 February
Moomin World is closed during the cold winter months with the exception of February half-term when the theme park opens its doors for a special winter-themed week of fairy-tale fun. Winter Magic sees the Moomin family waking from their winter slumber and hosting a full programme of events for the whole family, from Tooticky's Story at the Pancake factory to Moomin Family Winter Games at the Moominhouse. There's also a skating rink and sledding hill that will provide hours of Finnish winter fun.
Moomin World is in Naantali, 180km from Helsinki and connected by a regular bus service. For more information visit: muumimaailma.fi/en
Finland Ice Marathon 20 – 23 February
This year marks the 30th anniversary of Finland's ice skating marathon, held every year on the frozen Lake Kallavesi in Kuopio, eastern Finland. Thousands of skaters of all ages and abilities will take over the ice across three days of events, which include recreational and competitive races, moonlit skating, and a Mini-Marathon for children. Away from the ice, other wintery events are organised around the lake during the festival, so those that don't want to get their skates on can still enjoy the breathtaking scenery and join in the celebrations of the Finnish sport.
Finnair and SAS fly to Kuopio from Helsinki. Some hotels in Kuopio offer special rates for ice skaters over the dates of the festival. For more information and to register, visit:
pohjois-savonliikunta.fi/finland-ice-marathon
Helsinki Burlesque Festival 1 – 2 March
Despite February being Finland's coldest month, when temperatures rarely go above freezing, international burlesque artists flock to the capital to strip off and perform to a packed crowd at Helsinki's Gloria Cultural Arena. Burlescopolis is the theme for the sixth annual Helsinki Burlesque Festival, which will present a wide variety of traditional and contemporary burlesque performances in two evening shows. Aspiring burlesque dancers can attend workshops held around the city during the festival, while drawing classes and other related exhibitions are on offer for those who prefer to stay wrapped up.
For more information, visit helsinkiburlesque.com
Finnair flies direct to Helsinki from Heathrow (return fares start from £191) and Manchester (return fares start from £22). Fares include all taxes and fees. finnair.com