Have a cracking great Easter in Shakespeare Country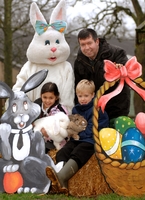 Experience a whole host of fun activities for all the family in Shakespeare Country during the Easter holidays from the 23 March – 7 April. Search for clues to win prizes with Easter trails and egg hunts, see a performance of Cloud Man, experience a spring extravaganza at Mary Arden's Farm, or simply marvel at spring flowers at Hill Close Gardens.
Enjoy a range of Easter inspired activities at the Shakespeare Houses from the 23 March – 14 April. Take part in Easter Trails around Anne Hathaway's Cottage & Gardens. Find all the Easter bunnies to win a chocolate prize (Easter Sunday only). Normal admission plus £1 for Easter Sunday Hunt. Spring to life at Mary Arden's Farm when the end of Lent sees Tudor dancing, music, story-telling and games. Try traditional egg-dying, archery, plus children's trails and falconry displays. Over at Nash's House & New Place enjoy Tudor games in the garden including bowls, skittles, dice-throwing and more family fun in the activities marquee.
See a performance of Cloud Man by the Royal Shakespeare Company which runs from 25 – 30 March in the Ferguson Room, Swan Theatre. In this delightful show, brought to you by Puppet Maker, Ailie Cohen, the audience follows the clues to the very top of Cloud Mountain, a place where the views are always surprising – and, if you're lucky, you might see something very special indeed. Featuring a blend of puppetry, storytelling and sumptuous visuals, Cloud Man is a 45 minute show suitable for children aged 4 – 7 years. £10 (adults) and £5 (children).
Enjoy an Easter quiz with prizes, Easter shows and some interactive children's ghost tours with Mr G Buster at Tudor World -The Falstaff Experience. For a really exciting evening, take part in a ghost tour of the building and a Friday Fright Club will take place from 9pm - 1pm on Friday 5 April. Shakespeare tour costs £4.50 for adults, the ghost tour of the museum costs £7.50, Mr G Buster tours cost £13 family ticket (2+2) and the Friday Fright Club costs £30.
Spend Easter Sunday at Hill Close Gardens in Warwick amongst the spring flowers. For children there's an Easter egg hunt and at 3pm an Easter Bonnet Parade with a prize to be won. Refreshments, including delicious cakes will be served in the "green" visitor centre plus you can buy plants to enhance your own garden and children will be offered a garden trail. Opening times are Friday & Sunday 2pm - 5pm and Saturday & Bank Holiday Monday 11am - 5pm.
The Land Rover customised for Aardman Productions well known character 'Shaun the Sheep', takes centre stage this Easter at the Heritage Motor Centre with a series of special family activities. Visitors can enjoy a 'Spot Shaun' quiz, craft days on Thursday 28 March and 4 April to make and decorate their own Sheep and Land Rover, plus the traditional Easter Egg hunt over the Easter weekend. Or why not enjoy a ride in a real Land Rover - take a 20 minute taster session to experience the thrills and spills of off-road driving. These run daily with qualified instructors driving you around a challenging off-road course over rocky inclines, steep descents and some pretty impressive water sections. Not suitable for children under 5 years. £9 Adult, £6 Child.
Take part in an Easter Family Fun Trail at Kenilworth Castle from 23 March – 14 April. Crack the clues to complete the 'egg-citing' trail and find the missing eggs around the grounds to be rewarded with a yummy Easter prize. Over the bank holiday weekend take part in Fool School for a weekend of all things foolish and fun! Meet the side-splitting jester who will entertain you with his tall tales and tomfoolery. Take part in the circus school and learn a few tricks of your own.
Hatton Country World has another choc-o-bloc programme of events for the Easter holiday. Families can hunt for coloured eggs in Hatton's Easter Garden which can be exchanged for chocolate ones. Prizes will also be awarded to children who can find all the bunny cut-outs dotted throughout the farm village, and each day there will be a special treat for the child who discovers where the Easter Bunny's special golden egg has been hidden. Easter also sees the return of rides on Tristan the Runaway Tractor with his enchanting new children's stories as well as Sheepstakes sheep racing and Daft Duck Trials. There are also breathtaking Bird-o-batics falconry displays. £13.95 for children and £12.95 for adults.
Visit the National Herb Centre and ask Rhiannon Evans, a local herbalist, questions about herbal medicine. Sessions will be held in the Garden Room on Saturday 30 March from 2pm — 4pm and on Saturday 27 April from 2pm — 4pm. There is no charge but donations are appreciated Wander around a Craft and Gift Fair from 29 March – 1 April from 10am—4.30pm and purchase genuine handmade crafts. Children can make a plasticine model of themselves on Friday 29 March & Thursday 4 April at 11:00am & 1.00pm. £5 per child. Prize given for the best model in each session. Alternatively children can take part in an Easter Egg Hunt by finding the egg pictures hiding around the centre and working out the mystery word from Friday 29 March - Sunday 7 April. Free yummy treat when returning the form!
Join the History Detectives at St John's Museum in Warwick and help them investigate the past on the 26, 27 & 28 March. With a different case each day, unravel the clues using real and replica objects and documents from the History Detective's vault. Cost £22 a day. Book 3 sessions and receive a 20% discount on the overall cost per child. Suitable for ages 6 - 12 years. The site of St John's House used to be a medieval hospital run by monks, treated the sick and offered a place to stay for travellers. On Friday 5 April learn what their daily lives might have been like and about the medicines they used. Make a medieval remedy to take home to keep illness and bad smells away. Tickets £2.50 per child, 5s and under £1.00. 8s and under must be accompanied by an adult.
For accommodation, special offers and more information visit the official website: shakespeare-country.co.uk.