Greek Easter kicks off holiday season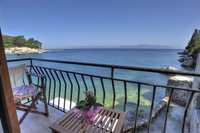 Holiday forecasters are predicting that Greece and Spain are set to enjoy bumper seasons in 2016 and Greek Easter – which is later than the UK's (Greek Easter Sunday is on 1 May) – is the traditional curtain raiser for arrivals in the Ionian Islands (and the flights are very reasonable).
UK-based Ionian Villas has over 200 of the very best villas to be found anywhere on the islands of Corfu, Cephalonia, Ithaca, Lefkas, Paxos, AntiPaxos, Meganissi and, new for 2016, Zakynthos.
Here are just a few recommendations for a Greek Easter holiday.
Paxos is the perfect place to witness the Easter celebrations, staying in the small fishing village of Loggos, where you can watch the Easter procession, mix with the locals and enjoy the fireworks at midnight in the main square on the Saturday night. Mermaid Cottage is a cosy, one bedroomed cottage with views to the mountains of the Greek mainland; waterfront tavernas, cafes, shops and a sheltered beach are just a short stroll away. A week's stay coinciding with Greek Easter costs from £600 (£300 pp). The best way to get there is by Easyjet to Corfu (approx. £110 pp) and a hydrofoil transfer to Paxos (£35 per person round trip).
Dexa Beach House on Ithaca is a two-bedroomed villa which lies within a large bay fringed by olive groves, one kilometre north of Vathy, the island's capital port. Behind the beach there are just a few houses hidden amongst the olive groves and there exists a sleepy and peaceful atmosphere. The house, which is just metres from the beach, has a private, shaded terrace, bordered by flowers, and looks out through olive trees to the sea. There is a simple snack bar/cantina just above the beach and there is a shaded barbecue area (it is rare to find a property so close to the sea). A week's stay in May costs £1150 (£288 pp when fully occupied).
Villa Cara, a three-bedroomed property (sleeps eight) on the island of Cephalonia, is a special hideaway close to the sea on the south coast with its sandy beaches. Surrounded by hillsides of olive groves, the villa looks out over a natural landscape of pine and cypress to the sea and in the distance, the island of Zakynthos. The villa is set within private grounds of over an acre of beautifully landscaped gardens. Cara, with a private pool surrounded by lawns and fruit orchards, is on the outskirts of the small village of Klismata – Bizantio taverna is a 10-minute walk and there is a good selection of tavernas within a five-minute drive. A week's stay in May costs £1300 (£163 pp when fully occupied).
In Greek mythology, Galatea was a sea nymph loved by Polyphemus. This two-bedroomed property on the island of Zakynthos is set on a hillside above the sea outside the port of Agios Nikolaos on the north east coast. The villa has private terraces and gardens with olive trees and vines, and one of its more unusual features is the TV which is linked to an underwater camera, for those who want to search for local seals and starfish from the comfort of an armchair, chilled wine in hand! A stepped pathway leads down to the sea below, where private kayaks are kept for exploring the nearby sea caves. A week's rental in May costs from £2040 ((£510 pp based on four sharing).

For further information, visit ionian-villas.co.uk.