Family Whitsun Week in the Ionian Islands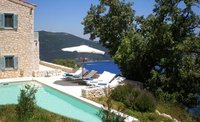 Late May is one of the best times of year to visit Greece with warm, early summer sunshine, crowd-less beaches and enticing early-season prices.
Greek island villa specialist Ionian Villas – which offers only the very best villas across eight of the islands – has numerous options for families looking for a week in the sun this coming Whitsun half term. Here are just a few ideas…
Three-bedroomed Villa Icarus (as in Icarus and Daedalus in Greek mythology) on the island of Lefkas is one of four villas, each with a private pool, perched high above the sea on a south coast promontory. The sumptuous retreat has theatrical views across Vassiliki Bay towards the islands of Ithaca and Cephalonia.
The owner offers a breakfast delivery service, private chef and babysitting. The port of Vassiliki with its many tavernas and cafe bars is a 10-minute drive away. A week's stay from 29 May costs £2040 or £340 pp when fully-occupied by six people.
Dexa Beach House on the island of Ithaca lies within a large bay of olive groves, one kilometre north of Vathy, the island's capital port. In Homer's Oddysey, Odysseus is returned to Ithaca by a Phoenician longboat and it is said that the Phoenicians dropped him off whilst he was sleeping, on Dexa Beach.
The two-bedroomed property is set amongst olive groves, just 15 metres from the beach and looks out through the trees towards the sea. There is a simple snack bar/cantina just above the beach and the small town of Vathy with its shops, tavernas and boat hire is just a five-minute drive away. A week's stay from 28 May costs £1210 or £302 pp when fully occupied by four people.
Averto Avalli is a magnificent three-bedroomed apartment on the island of Paxos, located within a grand building that was once home to the British Governor from 1815-1864, prior to the island being re-united with Greece. The stylish, spacious, waterfront property has views across the water to a Venetian fortress and is a two-minute stroll to Gaios square, with its pedestrianised side streets of shops and tavernas (there is also a beach within a five-minute walk).
A hired boat can be moored directly below the apartment, ideal for exploring the coastline and to get to the sandy beaches of AntiPaxos. A week's stay from 30 May costs £1420 or £236 pp when fully occupied by six people.
None of the prices quoted include flights (the islands can be reached by no-frills carriers such as Easyjet, which flies to Corfu). For more information, visit ionian-villas.co.uk.