Martin Luther King Jr. - 'I Have a Dream' - 50 years on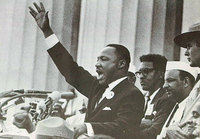 In August 2013 it will be exactly 50 years since Martin Luther King Jr. gave his legendary speech – 'I Have a Dream' in front of the Lincoln Memorial in Washington DC.
To commemorate this 50th anniversary, US specialist, Bon Voyage, is featuring a fly-drive holiday taking in Georgia, Alabama and Tennessee including a visit to the motel balcony in Memphis where his assassination took place.
Highlights include his birthplace of Atlanta, where visitors can take in a guided tour of his home; Alabama – where he lived with his wife and children in Mongomery and where he was imprisoned in Birmingham following a campaign against racial segregation - and Memphis when, on the 4 April 1968, he was shot and at the Lorraine Motel.
Today the place of his assassination forms part of the Civil Rights Museum where, for this year only, visitors can stand on the very spot outside Room 306 where he was gunned down by sniper, James Earl Ray. In the past it was only possible to peer into the room – which remains untouched - via a sealed glass window from an interior hallway.
This 10-night trip leads in at £1650 per person (based on two people sharing) inclusive of return flights from Heathrow, Manchester or Glasgow,, mid-size car hire, four-star room-only hotels throughout and personalised road book with bespoke driving instructions.
For more information, visit bon-voyage.co.uk/spotlights.