Step into spring with Wales' leading walking festival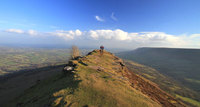 From 1st to 10th March, the Crickhowell Walking Festival celebrates its 6th successful year with a record 88 walks and an exciting programme of supporting events.
Each year Crickhowell has hosted a programme of guided walks mainly in the Black Mountains, within the Brecon Beacons National Park. Walks are graded, so you should be able to find something to suit your ability – from all day, demanding, treks across mountain and moorland to more gentle strolls through fields and along the river Usk or the Brecon canal.
This year the most demanding trek is a consecutive three day event which covers all thirteen peaks over 2000 feet in the Black Mountains. You can walk on any one of the three days or choose to do all three – a certificate will be awarded to those who complete all thirteen peaks. You are also asked to raise money for the Festival's chosen charity, which this year is Action for Kids.
If you fancy something easier, then there are two walks through the Glanusk Estate, taking in river and canal, along a newly opened footpath, allowing you a glimpse of this beautiful estate's lands and river frontage. Or you could go bird watching with an expert guide.
Do you wish to bolster your confidence on the mountains? Then there are courses – both classroom and outdoors – on map reading and navigation.
How are your photography skills? Renowned landscape photographer Nigel Foster is leading a workshop for those who want to combine their walking and photography.
In the evenings there are a quizzes and talks on local and national topics of interest. The keynote speaker this year is John Blashford-Snell, the veteran explorer and leader, who will talk about his life of exploration – which is still going strong!
Finally, relax and enjoy the music of Wales' premier swing/jazz band – the Keith Little Band.
What better way to welcome Spring than to spend a few days in lovely Crickhowell, with its unique shops, beautiful scenery, great places to eat and stay and fantastic walking?
Crickhowell is situated in the east of the Brecon Beacons National Park, equidistant between Abergavenny and Brecon. It is a small market town with an abundance of local shops and excellent places to stay and eat.
Crickhowell has recently acquired "Walkers are Welcome" status. This is an initiative which brings communities together and strengthens their reputation as a place where visitors can enjoy outdoor activities.
The Crickhowell Walking Festival is a not-for-profit event organised by the Crickhowell Resource and Information Centre (CRiC) on behalf of the Crickhowell and Black Mountains Tourism Association (CBMT).
CRiC's building in the centre of Crickhowell houses the Tourist Information Centre, local craft for sale an excellent art gallery and provides internet access, WiFi and light refreshments. It is open every day during the Festival.
More information on Crickhowell and CRiC may be found at visitcrickhowell.co.uk.
The Festival website is crickhowellfestival.com.