United in the driving seat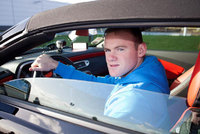 It was a day of anticipation and excitement at the Manchester United training ground as players and staff received the keys to their new Chevrolets as part of the sponsorship deal with the club.

The choices made were characterised by the needs and lifestyles of the players, with the Chevrolet Captiva proving to be among the most popular.

"Our Chevrolet portfolio has given the Manchester staff and players a wide choice to suit their lifestyle, be it a Captiva, the extended range electric Volt or the iconic Camaro and Corvette," said Susan Docherty, President and Managing Director of Chevrolet Europe. "It is great to see that Manchester United is now in the driving seat, both in terms of the league and our cars."

In addition to taking delivery of their cars, some players also received special driving and safety tips from Corvette Racing driver Oliver Gavin, an experience that added further excitement to the vehicle hand-over.

Robin Van Persie, who opted for the Captiva, said: "I have two children, so this car is really good for me – it's a family car. It looks very nice, it's a good car." The 29-year-old is a recent arrival to Manchester United, but has already made a huge impact and is the Premier League current top scorer with 18 goals to his name.

Fellow Dutchman Alexander Buttner also chose the Captiva. "It's a really nice car, it's big, I have a lot of family over from Holland so it's nice to have a lot of space when we go somewhere," he remarked.

Keeper Sam Johnstone and Nick Powell went electric with the Volt. Midfielder Powell said: "It feels different; it's a lot quieter… It feels futuristic, especially with regards to saving energy."

The 400-hp plus Chevrolet Camaro and top of the line Chevrolet Corvette were the preferred choice for talismanic forward Wayne Rooney, defender Patrice Evra, midfielder Michael Carrick and Mexican goal scorer Javier Hernandez.

Wayne Rooney was pleased with his Camaro Convertible: "It's great, it obviously looks great and I'm excited to drive it. I think when I saw them all together this was the one that suited me best, it looks nice and will drive well too. I chose a manual as I think it's great to get full use from a sports car."

Patrice Evra opted for the Camaro Coupe: "I like the shape of the car, it's fantastic. I just had my first drive and I was really surprised, it drives well and you can feel it's really powerful, I'm very happy."

Michael Carrick was pleased to get back behind the wheel of a sports car with his Corvette GS: "I used to have a Dodge Viper but haven't had a sports car for a while so this is a great opportunity for me. When I got the chance to have this Corvette I snapped their hand off!"

Javier Hernandez' choice of Corvette as his chosen model was down to size: "I looked at the Camaro and the Corvette, but this is not too big, like me, we are quite similar!" he said, "It's a very good car and I am very happy Chevrolet offered this to me."

The handover of the cars to the Manchester United players and staff can be seen at http://spr.ly/mufccar

Chevrolet became the Official Automotive Partner of Manchester United as part of a sponsorship agreement signed in 2012. The Chevrolet logo will feature on the Reds' shirts as of the 2014/5 season.