Air France takes off for Montevideo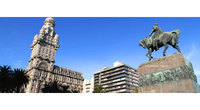 Air France is continuing to expand its long-haul international network, the largest in the world, with a new destination in South America: Montevideo. The capital city of Uruguay will be served as from 16 April 2013 by 5 weekly flights, as an extension of the flight to Buenos Aires.
For the summer 2013 season, the Paris-Charles de Gaulle - Montevideo route will be operated by Boeing 777-200, equipped with 308 seats (34 in Business class, 24 in Premium Economy and 250 in Economy).
In the Business cabin, passengers on flights to Montevideo will be able to enjoy a full-sleep seat which offers optimum comfort and is one of the most spacious and most comfortable seats on the market. Ideal for night flights between Paris-Charles de Gaulle and Uruguay, this seat enables passengers to arrive at their destination feeling rested the following morning.
All passengers will be able to enjoy the excellence of French-style service and made-to-measure products and services, thanks to Spanish-speaking cabin crew and specific products.
In South America, Montevideo will be the 15th destination served by the Air France-KLM Group, leader on the continent. The Group currently serves 14 destinations in South America and offers 125 weekly flights on departure from Paris-Charles de Gaulle and Amsterdam-Schiphol.
"We strongly believe in the South American growth story, it's a dynamic market where we have a long history and strong leadership position. Opening Montevideo extends our reach even further: Air France-KLM now reaches 11 destinations in South America and we continue to evaluate new destinations and extend capacity on existing routes as opportunities arise". Patrick Roux, EVP Americas at Air France-KLM.