Walking on water in Aruba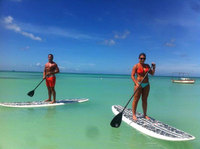 Walking on water is one of the latest phenomena to sweep the sport-mad beaches of the Caribbean island of Aruba. Just about any activity involving the azure-blue seas surrounding this holiday idyll is available, with stand-up paddleboarding now enticing a new generation of beginners.
Rated as the fastest-growing recreational sport in the world, it requires a paddleboard - similar to that of a surfboard but larger - on which the 'boarder' stands, using a long-handled paddle to propel the board across the water surface, giving the appearance of walking on the surface. One can, of course, also 'catch' a wave for a more exciting experience.
Apart from being fun, it's also a great training regime. Jereme van Dal, owner of Aruba's only fully dedicated stand-up paddleboard business, Stand-Up Paddle Aruba, explains: 'Paddling provides a full body workout than can burn more than 500 calories an hour. It is becoming a favourite cross-training activity for skiers, snowboarders and even yoga practitioners.'
He added: 'It's fun to just paddle in flat water and since you're standing at your full height, you'll enjoy excellent views of everything from sea creatures to what's on the horizon. Everyone from children to senior citizens can do it. I have never had a person who couldn't get up on the board, no matter what age or weight.'
A one-hour session with Stand-Up Paddle Aruba (suparuba.com) costs US$90 (approx. £60) per hour or $55 (£36) per group session of up to four people.
In fact, the sporting fraternity on this Dutch Caribbean island have taken the sport a stage further and developed stand-up paddleboard yoga, replacing the traditional mat with the board. SUP yoga retreats, masterclasses and workshops are now available throughout the year.
Leading exponent is Rachel Brathen, Retreat Director at Aruba's Manchebo Beach Resort and Spa. 'SUP yoga is a great workout that really helps to improve balance and core strength - the board is a rigid non-slip yoga mat,' she enthuses. 'You must stay focused and be positive, concentrating on the muscles being used. The sky and ocean are all you see. A 90-minute class costs US$45 (approx. £30). Visit manchebo.com or rachelbrathen.com for further information.
At the more extreme end of the watersport spectrum is kite boarding, for which Aruba is also gaining a worldwide reputation, thanks to its passing trade winds. Even if visitors are not tempted, they will enjoy the daring antics of kiteboarders from such locations as Palm Beach on the northwest coastline, watching them darting across the water with their spinning half-moon shaped sails.
Experienced kiteboarders rate Aruba as an ideal learning ground, as its winds are steady - rather than changing daily or gusting as they do elsewhere.
Away from the water, other sports are also catching the eyes of the active visitor to Aruba. Beach tennis continues to grow in popularity and the island annually hosts in November the grand slam of beach tennis, the Aruba International Beach Tennis event. The biggest athletic event of the year in Aruba, it attracted 600 participants in 2012.
Aside from that there are regular matches for locals and visitors across 15 courts on the island's Eagle Beach. Using depressurised tennis boards and a colourful paddle, rather than a racquet, beach tennis is for teams of two. Played on a court the same size as that for volleyball, players have to hit the ball over the net of a court without letting it bounce.
Beach tennis is also getting serious. It has won the endorsement of the International Tennis Federation, helping the spread the word and paving the way for its inclusion in future Olympics. To learn more visit beachtennisaruba.com
For more information on the vast range of sports and activities in Aruba, visit aruba.com.