Citroen is first manufacturer to fit insurance 'black box' as standard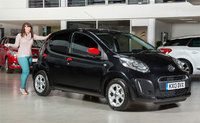 Citroen is creatively turning to technology to reduce the cost of younger buyers owning and insuring a brand new car by fitting its C1 Connexion special edition with a telematics 'black box' as standard. The Smartnav system, provided by Trafficmaster, allows Citroen to offer free insurance for the first year of ownership to all eligible drivers from 19 - 75 years of age when the car is funded with Elect 3 or Elect 4 finance.

This new initiative from Citroen means younger drivers can now drive off in a new Citroen C1 1.0i 68 manual 3-door Connexion for just £109 per month plus deposit on Elect 3 finance - complete with free insurance.

The Citroen insurance included in this offer is free for qualifying young drivers subject to two years No Claims Discount (NCD). Thanks to the fitment of the telematics unit, Citroen is also able to offer heavily discounted cover to drivers with zero or just one year's NCD. For example a 19 year old with no NCD can insure a new C1 Connexion with Citroen Insurance for just £950.
Importantly, renewal premiums will be based on the driving behaviour over the first 12 months of ownership. This means that, regardless of the age of the named individuals on the policy, good driving habits will be rewarded with lower insurance premiums in subsequent years.

To meet high sales demand Citroen has increased production of the C1 Connexion special editions. An additional 750 models will be produced and a new body colour - Carlinite Grey - is now available. The Trafficmaster Smartnav system comes as standard at no extra cost.

Citroen's C1 Connexion is the UK's first production vehicle to be created in collaboration with Facebook. More than 24,000 members of the public helped to configure the model. Based on the popular C1 1.0i manual in VTR trim, C1 Connexion retains its special edition 'Scarlet Red' detailing with characterful design cues including red door mirrors, door handles, speedometer trim, air vents and centre console.

There are two versions of the C1 Connexion special edition, both with standard specification Trafficmaster Smartnav;

Version - MRRP OTR
C1 1.0i 68 manual 3-door Connexion (Caldera Black or Carlinite Grey)
£9,820.00
C1 1.0i 68 manual 5-door Connexion
(Caldera Black or Carlinite Grey)
£10,170.00
In addition to the insurance offer, customers will also benefit from Trafficmaster's other telematics services, which are available free of charge for an introductory period. These include;
Smartnav Routes (either 15 routes or 3 months usage, whichever comes first)
3 months Trackstar Stolen Vehicle Tracking
3 months Safespeed Camera Alerts
12 months Emergency & Breakdown Call