Enjoy a brand new cycling adventure in Finland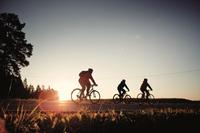 Nothing has so energised our passion for two wheels as much as the triumph of cycling stars Sir Chris Hoy and Bradley Wiggins, who astounded us all in the Olympics and Tour de France. Now, however, we can take that passion to a whole new level by combining a love of pedal power with a love of travel – all thanks to a brand new adventure: Island Hopping by Bike in the Turku Archipelago.
The archipelago are one of Finland's most stunning natural phenomena, with no less than 20,000 islands stretching like giant stepping stones out into the sea from the south-west coastline. This new cycling tour flits from island to island, taking full advantage of excellent local ferries that sail back and forth almost constantly.
Hosted by Guild Travel, Finland's leading travel specialist, the adventure begins with a flight to Helsinki and the welcome comforts of a three-star hotel right in the heart of this beautiful city: the perfect place to begin your sightseeing by bike next morning, all with the help of an English-speaking guide.
Next it's off by train to Turku, Finland's oldest city and former capital, where you can sample local and international cuisine in the restaurants around your three-star hotel.

On day three you continue by bike to nearby Naantali and soon after the island-hopping begins in earnest, first with a ride across the bridge to Merimasku followed by a leg-resting and relaxing 45-minute ferry journey.
Refreshed by an overnight stay with sumptuous dinner in a converted farmhouse, begin your main island-hopping day with seven ferry journeys to the heart of the archipelago – the tiny, remote island of Iniö then Houtskari, which boasts some of the region's most challenging routes. After well-earned rests on the ferry rides to Korpoo, then Nauvo, it's time for some serious R 'n' R in an old manor house located amidst beautiful natural scenery. Before dinner, why not enjoy a refreshing swim in the sea or indulge yourself with an evening sauna?
Next morning the ferry takes you north back to the mainland where you continue by bike via Rymättylä to Naantali, an idyllic seaside village with cobbled streets and traditional wooden houses set around a bustling harbour – and, of course, a lovely spa hotel for you to relax in before heading next day by bike to Turku and a one-hour train to Karjaa. From here it's on to Fiskars, a former iron works village, then Tammisaari, a quaint seaside town of well-preserved, centuries-old wooden houses.
Having enjoyed an overnight stay in a hotel close to the sea you can ride out to the majestic ruins of Raaseborg castle then on to Mustio and a fitting finale: a last night of the very best Finnish hospitality in a manor house with extensive gardens and world-class restaurant.
Remember, throughout your trip, you won't have to carry extra provisions or cash in your panniers; included in your dream holiday are return flights, airport transfers, seven nights accommodation with breakfast, three three-course dinners, your Helsinki tour, train and ferry tickets and luggage transportation – not forgetting, of course, a bicycle and helmet and detailed route notes and maps. Prices start from £994 per person based on twin occupancy. For more information on this wonderful new trip visit guildtravel.com.