Organic wines and Cornish specialities key to Gourmet Weekend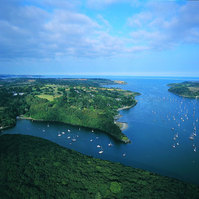 As the UK's mass food industry negotiates storm and turmoil, guests of the Budock Vean on Cornwall's Helford River are enjoying an oasis of calm knowing the provenance of every morsel that passes their lips.
And with their upcoming Gourmet Weekend the hotel has added a night of Organic wines to accompany each of five mouth-watering, locally sourced courses. "We've always prided ourselves on sourcing everything we possibly can from the fantastic food producers on our doorstep," says the hotel's owner Martin Barlow. "It sounds obvious really, but when you've got the best meat, fish, fruit and veg in the country within a twenty mile radius, why wouldn't you use it?"
While the world-class wines are not "local", there is no excuse for not knowing exactly where they came from or how they are made. Hampshire-based Vintage Roots are providing five Organic wines to compliment five courses on Friday 1st March, whilst the expert team from Wine in Cornwall are doing the honours for Saturday 2nd.
"We'll be talking diners through each organic wine on the menu and why it suits the food on their plates - and we can do this because we've visited every vineyard and know exactly the processes that are used," says Emmanuel Byilingiro of Vintage Roots.
"Organic wines are made from grapes that are cultivated without synthetic fungicides, herbicides or chemical fertilisers. Organic vineyards tend therefore to be literally buzzing with life, both above and below the ground. This is great for biodiversity, plant health and ultimately the quality of the wine."
As a little taster - Friday night sees a 2011 Austrian Meinklang Grüner Veltliner paired with chef Darren Kelly's chicken liver parfait, walnut toast and rhubarb chutney (even the chutney is made in the Budock Vean kitchens), while a 2010 French Chateau Couronneau Bordeaux Superieur is teamed with roast loin of wild Cornish venison, beetroot, cauliflower and a sage jus (home grown sage, naturally).
As for the Cornish fish soup - it includes (depending on the catch of the day) red mullet and hake, haddock and brill provided by Matthew Stevens in St Ives and helped down by a 2010 Te Arai Chenin Blanc from New Zealand's Millton Vineyards. The gourmet extravaganza of Friday makes way for full English breakfast on Saturday morning by which time guests may be ready to use up some energy with rounds of golf, strolling around the estate's 65 acres running down to the Helford River, swimming in the large pool with its roaring open fire, hot-tubbing, tennis or just relaxing in the ultimate luxury of the Natural Health Spa.
And after all that they should be ready to re-join the house party for Saturday night's feast...
This Budock Vean Gourmet Weekend runs from Friday 1 and Saturday 2 March 2013.
Two Nights - £199 per person for two night break, gourmet dinners, bed and breakfast in a standard room or £225 for a superior room.
Prices include:-
Five-course Gourmet dinner, coffee and selected wines on both nights
Full-English breakfast
Unlimited golf, swimming, sauna, outdoor hot tub, tennis and snooker
The weekend can be extended at a discounted rate of £76 per person, per additional night in a standard room and £89 per person, per additional night in a superior room including dinner, bed and breakfast.
For more information see budockvean.co.uk/special-breaks-in-cornwall/gourmet-weekends
For more on Vintage Roots see vintageroots.co.uk