Set off on a family Easter adventure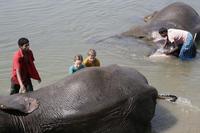 Families Worldwide has a mid-boggling choice of adventure holidays available this Easter. All trips have jam-packed itineraries to maximise the fun but also have time allocated for mum and dad to chill out as well – it is a holiday after all! Here are just a few ideas:
Have a blast at Vesuvius – 8 days from £749 pp
Head for Italy on the 8-day Vesuvius & Pompeii trip departing 7 April. The holiday is based in Sorrento which is perfect for visiting some of Italy's finest ancient sites, spectacular coastline and tiny islands. Highlights include uncovering the secrets of Pompeii, a trek up Mount Vesuvius and a visit to the volcanic museum. Plus, a boat ride to Capri to discover the dramatic scenery on a cruise around the island and a scenic drive along the Amalfi Coast before heading for the hills for a pre-lunch walk. There is also an optional trip to Naples, or a visit to the preserved Roman ruins of Herculaneum. In Sorrento there will even be a chance to cook pasta with the hotel's chef. The holiday costs from £749 per child (5+) and £769 per adult which includes all land transportation, 7 nights' B&B (plus 1 lunch), activities & a tour leader. Flight-inclusive prices available on request.
Rainforest Adventure in Costa Rica – 13 days from £1999 pp
Costa Rica is a country rich in rainforest and incredible animal life; it is also home to 10% of the entire planet's butterfly population. Families Worldwide has spaces on its 14 day Rainforest & Volcanoes trip departing 30 March. Highlights include exploring a rainforest canopy, guided hikes, volcano climbing, a boat trip to Tortuguero National Park and a meeting with the Maleku tribe. Other optional activities include white-water rafting and zip wire flying. The holiday costs from £1999 per child (min. age 5), £2099 per adult which includes flights, all transportation, 11 nights' accommodation (hotels/lodge) some meals & a tour leader.
Ceylon Discovery – 14 days from £ 1679 pp
Known as Buddha's Island, Sri Lanka – which used to be called Ceylon – is a country of enormous variety. With its amazing history of early Buddhism, lush green forests and jungle, cool highlands, ornate temples, wonderful food and friendly people, it's an ideal destination. Highlights include the caves and temple at Dambulla, a cycle ride through local villages (plus a cookery lesson), climbing the rock at Sigiriya, a city tour of Kandy, a game drive in the Uda Walawe NP, a visit to a tea plantation and chilling on the beach at Galle. The holiday departs on 30 March and costs from £1679 per child (age 5+), £1799 per adult, which includes flights, all transportation, 12 nights' B&B (plus 1 lunch and 3 dinners) & a tour leader.
Easter Egyptian fun with Feluccas & Pyramids – 9 days from £1029 pp
Families Worldwide has availability on its 9-day, educational, yet fun-filled trip to Egypt entitled Feluccas & Pyramids departing 30 March or 6 April. Highlights include the pyramids, Egyptian Museum, Aswan (via an overnight train), a mini Nile Cruise to Luxor on a traditional felucca, a donkey ride and a visit to the Valley of the Kings before returning to Cairo. The trip costs from £999 per child (age guide 5+) and £1129 per adult which includes flights, all transportation, 8 nights' B&B (plus 1 lunch and 3 dinners) & a tour leader.
All holidays are also available 'land-only' for those who prefer to book their own flights.
For more information, visit familiesworldwide.co.uk