Make love everlasting with Infinite Romance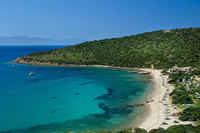 For honeymooners, couples and those celebrating an anniversary or special occasion, Kempinski Hotel Barbaros Bay, Bodrum, is an idyllic romantic escape now making love possible all year round, with the new 'Infinite Romance' experience. This new offering is a chance for couples to share the love in a stunning setting on the coast of Turkey, with a selection of relaxing activities and extras to make the stay even more special.
The blissful hideaway Kempinski Hotel Barbaros Bay is set on a private bay on the Aegean coast of Turkey, and is ideal for couples wanting to escape everyday life and spend undisturbed time together. Kempinski Hotel Barbaros Bay ensures every need is catered for with 'Infinite Romance', the perfect choice for a romantic gesture, birthday celebration or last minute present idea.
As part of the Infinite Romance break, guests will receive:
A tailor-made bouquet of flowers on arrival, using the favourite colours and flowers of the guests
A bottle of Champagne to enjoy on the spacious balcony one evening
An indulgent box of chocolates for a midnight treat
Three hours of private use of the spacious and beautifully decorated spa suite with private use of the sauna and steam room
On another day, a couple's aroma massage in the palatial spa of the hotel
An in room aroma bath experience, whereby guests will return to their room after their evening meal to a warm bath filled with flowers and relaxing essential oils
A private and romantic evening of their choice, whether it's beneath the stars on a little corner of the beach, or a private terrace looking out over the water
For guests looking for a little extra privacy, Kempinski Hotel Barbaros Bay can also arrange a private evening sailing trip on the property's yacht with just the moonlight for company whilst sipping on champagne.
Offering 24 suites and 149 bedrooms, Kempinski Hotel Barbaros Bay offers a selection of beautifully appointed bedrooms perfect for couples looking to get away to a stunning romantic setting. With a spectacular award winning spa, beautiful pools, adult only sun deck and a variety of intimate restaurants, the hotel is the short-haul romantic escape for couples.
The Infinite Romance break costs from 185 euro. Nightly rates at the Kempinski Hotel Barbaros Bay start from 265 euros per room, per night including breakfast, based on two sharing. To book, visit kempinski.com/bodrum.