Vauxhall extends range on Government funding offer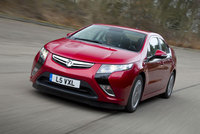 Vauxhall customers can now benefit from free installation of a home charging unit for their cutting-edge Ampera extended-range electric vehicles.

Yesterday, the Government announced funding for owners of electric vehicles (EVs) where they will cover 75 per cent of costs for home charging unit installations up to a maximum of £1,000 including VAT. Vauxhall will meet the remaining 25 per cent on the same basis for new retail customers taking up the offer.

The Government's £37 million package of benefits also includes additional measures for local authorities to install on-street charging posts and rapid chargers. Train operators can also claim for charge point installations at railway stations for EV commuters.

"We fully support the Government's announcement and are very happy to meet the remaining home charging installation costs for Ampera customers," said Ian Allen, Vauxhall's Environmental Strategy Manager and Chairman of the Society of Motor Manufacturers and Traders' Electric Vehicle Committee. "Vauxhall welcomes a nationwide plan as it means all Ampera drivers will have the cost of their home charging solution covered, not just those who live in certain geographical areas."

The Government's announcement is great news for Vauxhall and its revolutionary Ampera. Arriving in UK showrooms last year, Ampera has a real-world battery range of between 25-50 miles, after which a small range-extender motor intervenes to provide up to an additional 300-plus mile range. At all times, the Ampera's wheels are electrically driven, setting it apart from conventional hybrid vehicles.

Ampera pricing starts at £29,995 on-the-road (including £5,000 government grant) for the Earth model. The car is available through a network of 24 specialist Vauxhall dealers and is covered by the manufacturer's industry-leading Lifetime Warranty.

Pioneering customers are also given further peace of mind thanks to the Love It or Return It campaign available on Ampera whereby if purchasers find that within the first 30 days/1500 miles of ownership Ampera isn't right for them after all, they can return it to Vauxhall.

The revolutionary vehicle is also offered on the 3-Day Test Drive programme through which company car drivers can test a Vauxhall for three days, without paying a penny more than the electricity and/or the fuel used.