Wagnermania in the Cultural Heart of Germany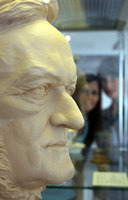 London may have its 'Wagner 200' festival kicking off in May with a birthday concert at the Royal Festival Hall. However, in order to properly celebrate the composer's 200th anniversary, discerning travellers and music buffs should head to the Cultural Heart of Germany, where Richard Wagner was born in Leipzig on 22 May 1813. The region where the composer spent his formative years hosts a wide array of events and offers fascinating opportunities to trace his footsteps.
Saxony: Dresden & Leipzig
During his 19 years in Dresden where he served as music director for the Royal Court of Saxony Wagner developed a passion for music and theatre. Both his opera Rienzi as well as The Flying Dutchman premiered at the Semper Opera House. Dresden's Church of Our Lady as another preeminent site in Dresden associated with Wagner will set the scene for his first birthday concert on 18 May when Liebesmahl der Apostel, a piece for male choruses and orchestra, will have one of its rare performances at the place of its premiere in 1843. On 21 May, the second birthday concert will take place at the Semper Opera House where the Staatskapelle Dresden will, among others, perform the overture to The Flying Dutchman. Die-hard Wagner fans shouldn't miss one of his oldest residences in the village of Graupa only half an hour from Dresden: The Lohengrin House where he worked on the opera of the same name features rooms with original furnishings.
Festivities in his native city Leipzig will culminate in the Richard Wagner Festival (16 to 26 May) which has been held every May since 2006. This year's special 200th anniversary edition features a festive ceremony at Leipzig Opera including the performance of Ring without Words by the Gewandhaus Orchestra and a number of different operas such as Parsifal or a children's version of The Ring of the Nibelung. As a new addition to the city's rich landscape of musical sights and attractions a Richard Wagner Museum will be opening on 21 May.
Thuringia: Eisenach & Weimar
One of Wagner's most famous works, Tannhäuser, was influenced by the legendary medieval minstrel contest said to have taken place on the Wartburg Castle. The UNESCO World Heritage Site in Eisenach will host a number of concert performances of the opera throughout the year. Dates during the first half of the year sold out in no time but it's still worth giving September performances a try. FurtherTannhäuser performances at this authentic venue will be added in 2014. Beautiful Reuter Villa, at the foot of Wartburg Castle, houses a Wagner museum featuring the second largest Wagner collection worldwide. These objects will this year be part of a special anniversary exhibition at the Town Castle Museum in Eisenach (18 May to 3 November 2013).
Just under an hour east, Wagner's Lohengrin premiered in Weimar in 1850. Numerous performances of the romantic opera are scheduled at the German National Theatre not only this year but also throughout 2014. Wagner's influence is still felt in Weimar where his great-granddaughter, Nike Wagner, initiated the international art festival Pèlerinages in 2004. For this year's event from 23 August to 15 September she will for the last time take directorship and on the occasion of the composer's 200th anniversary put together a programme that is inspired by Wagner and his reception by contemporary art, music, dance, music and film. The open-air concert Wagner for all in the Weimarhallenpark (13 July 2013) promises to be another highlight.
For more information, visit culturalheart.info.