Luxury offer in former convent on the Amalfi Coast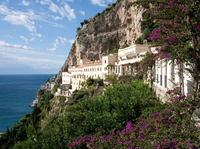 Sensational "Gourmet and Relax" package highlights 2013 season for the legendary NH Grand Hotel Convento di Amalfi. The package, which includes a 4-night stay for two people in one of just 53 rooms, each with a breath-taking view of the Amalfi Coast, costs from just £190 per person per night*
In addition to a deliciously tasty "AntiOx" buffet breakfast with natural, antioxidant products, guests will enjoy two delicious dinners of traditional Mediterranean dishes in the elegant Dei Cappuccini restaurant as well as two 50 minute massages in the hotel's comfortable well-being centre.
The hotel was created in the Cappuccini Convent in Amalfi, one of the most important monuments on the Amalfi coast.?The beauty of the main buildings, the flight of steps, the natural cave, the entrance, the cloister, the lemon gardens, the monks' walk, have been, for years, inspiration for artists, painters, photographers and overall for travelers coming from all over the world.
The complex is surrounded by lemon trees and lush gardens, once cultivated areas, thanks to a water channel running through the grounds.
Also new for this season, Grand Hotel Convento di Amalfi is opening a lounge bar near the outdoor infinity pool, where the pool water blends with the horizon, diving dramatically into the blue waters of the Mediterranean far below. The new bar creates a magical retreat where guests have the chance to sip a cocktail before or a liqueur after dinner in a unique and elegant setting with sensational views over the Amalfi Coast.
Grand Hotel Convento di Amalfi, is set into the cliff 80 metres above sea level. The hotel, which has panoramic views over the Salerno Gulf, is situated just a few yards from the old town centre of Amalfi and the port.
This five-star resort has been created in the 17th century monastery, which retains a charming Arab-Norman cloister and a magnificent "loggia" or outdoor corridor with pillars. This elegant and charming, but totally modern, hotel, suspended between the light blue of the sky and the deep blue of the sea, is the ideal setting for an unforgettable holiday. And with this offer at an unforgettable price!
*Based on exchange rate February 20. Euro cost is set at 435€ per night for two people sharing a double room with sea view.