Emirates A380 touches down in Barcelona for the first time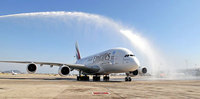 Emirates was welcomed by Barcelona – El Prat Airport last Sunday (24 February) as the airline brought its popular A380 aircraft for a one-off service. This is the first ever scheduled service of an Emirates A380 to Spain. The A380 service will also operate on 1 March 2013.
The special A380 flight, operated by Captain Abbas Shaban, head of the Emirates A380 fleet, and First Officer Juan Muelledes, a Spanish national, touched down this morning at Barcelona – El Prat Airport. The aircraft, at full capacity with 517 passengers, was welcomed by key officials including: Sonia Corrochano, Director of Barcelona – El Prat Airport and Richard Font, Generalitat, Routes Committee President.
Travelling on the flight from Dubai was Richard Jewsbury, Senior Vice President Commercial Operations, Europe and the Russian Federation.
"Emirates is currently operating two one-off Airbus A380 services between Dubai and Barcelona after overwhelming demand for air travel by our customers. The signature Emirates A380 service is fundamental to our overall strategy, and bringing this popular aircraft to Spain represents a significant milestone in our operations to Barcelona after just seven months of operations," said Richard Jewsbury Senior Vice President Commercial Operations, Europe and the Russian Federation.
"Emirates has had a strong presence in Spain since commencing operations in 2010, and we remain wholly committed to stimulating further growth within the market. Although we have no immediate plans to operate an A380 on the route in the near future, we remain committed to providing customers in Spain with seamless connectivity to the Far East, Australasia, Africa and the Middle East through our Dubai hub," continued Mr Jewsbury.
"The arrival of the A380 shows that Barcelona-El Prat Airport offers some of the best facilities and services for both passengers and airlines like Emirates, one of the world's best carriers," said Sonia Corrochano, Director of Barcelona - El Prat Airport.
In its first seven months of operations, Emirates has carried over 113,000 passengers to and from Barcelona. Emirates serves Barcelona with a 777-300ER offering 360 seats in a three-class configuration.
After a welcoming reception hosted by Fernando Suárez de Góngora, Emirates Country Manager for Spain, VIPs, and Barcelona Airport executives, Civil Aviation Authority officials and media enjoyed a guided static tour of the double-decker aircraft. The tour gave the guests a chance to see first-hand the innovative amenities provided for passengers on-board.
The Emirates' A380 is renowned for its First Class Private Suites, Shower Spas and on-board lounge for First Class and Business Class passengers, offering a wide range of drinks and canapés, as well as space to socialise or simply relax. Its three-class configuration boasts 14 private First Class Suites, 76 lie-flat beds in Business Class and 427 seats in Economy Class. Passengers across all cabins will get to enjoy over 1,400 channels on Emirates' award-winning Digital Widescreen inflight entertainment system, ice and stay connected to the Internet throughout their journey with high speed Wi-Fi access.
As the world's largest operator of the double-decker aircraft, Emirates' fleet of 31 A380s serves 21 destinations including: Jeddah, Bangkok, Hong Kong, Kuala Lumpur, Singapore, Amsterdam, Shanghai, Moscow, Rome, Seoul, London Heathrow, Melbourne, Munich, Beijing, Sydney, Auckland, Manchester, Tokyo, Paris, Toronto and New York.
The Emirates A380 is supported by Concourse A in Dubai which opened in January and is the world's first purpose-built A380 concourse.
EK 185 departs Dubai daily at 0740hrs and arrives in Barcelona at 1210hrs. EK 186 takes off from Barcelona at 1525hrs and lands in Dubai at 0045hrs the following day.