Emirates boosts connectivity to Morocco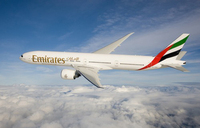 Emirates will step up services to Morocco with a second daily flight, boosting the service to 14 weekly flights beginning 1st September, 2014.

From 26 October, Emirates will upgrade this additional daily from an Airbus A340-500 to a Boeing 777-300ER, which means both daily services will be served by Boeing 777s. The 777-300ER offers eight luxurious First Class Private Suites, 42 flat-bed seats in Business Class and 310 generously sized Economy Class seats. The additional flight, coupled with an aircraft upgrade, will increase Emirates' weekly passenger capacity to Morocco by 100 percent, representing an extra 2,520 seats per week in each direction.
"By providing an extra daily frequency and upgrading the aircraft, we are responding to the strong demand for additional capacity. The strengthened service will foster new business and tourism ties to one of our key destinations within Africa and open up a wealth of choice for passengers travelling from Casablanca to Dubai. The increased frequency will give our customers greater flexibility in their travel plans allowing them to connect seamlessly to other flights on Emirates' global network of over 140 destinations that spans six continents." said Adil Al Ghaith, Emirates Vice President Commercial Operations for Northern and Western Africa.
Emirates' new capacity initiatives are expected to increase the momentum for Morocco's import and export industry. Emirates SkyCargo will have a daily belly-hold capacity of 46 tonnes in each direction, ensuring businesses benefit from the additional 322 tonnes of weekly capacity on the route. Key exports from Morocco include electrical components, mineral, chemical and agricultural products and garments while some of the main imports are petroleum products, automobiles and wheat.