Walking & Yoga in the Atlas Mountains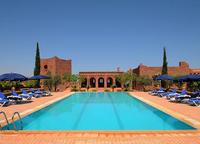 Satvada Retreats has created a holiday combining walking and yoga in the peaceful environs of the High Atlas Mountains of Morocco. The small-group break (max. 14 people) is suitable for all levels of ability and is from 7-12 November.
Accommodation for the retreat is in an eco-friendly, Berber-style, Kasbah-hotel, built just a few years ago by an Englishman with the assistance of local artisans. The hotel is set in beautifully manicured gardens, with uninterrupted views towards Jebel Toubkal and the High Atlas Mountains.
Each morning before breakfast, there will be hatha yoga sessions, followed by guided walks in the mountains. The morning yoga class will stretch and enliven the body in preparation for the guided walks.
The walks are led by a friendly local with extensive knowledge of the terrain. There will be an option on one day to take an all-day walk, which includes a packed lunch. All walks are guided straight from the door.
After each morning walk, the group will return to the hotel for lunch, before enjoying an afternoon at leisure.

The teacher for the break is Clive Fogelman, who has a creative and open-minded approach to yoga and meditation, influenced by his therapeutic work and sporting background. He encourages people to cultivate intuition within their bodies, mindful that all individuals are different and continually evolving.
Clive teaches dynamic, flow, restorative and yin yoga, always offering variations for all levels. His meditation classes include guided visualisations, breathing techniques, poetry and yoga nidra.
Each evening, there will be a second, gentle yoga class, before the group enjoys dinner in the restaurant's dining room. The evening class will be a far softer, reflective combination of gentle yoga, guided relaxation and meditation: the perfect wind-down after the day's activities.
Where possible, yoga will be al fresco, on the large terrace overlooking the pool, surrounded by the gardens and mountains
The holiday costs from £949 per person (two sharing). This includes five nights' full-board (excluding lunch and dinner on arrival/departure day), all yoga classes and daily, guided walks. Flights and transfers extra (Easyjet from Gatwick to Marrakech is recommended). The hotel is 40 minutes from Marrakech Airport.
For more information, visit satvada-retreats.co.uk.