Take a break to Brexit proof Morocco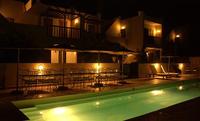 As the dust continues to settle following the surprise Brexit vote and the pound continues to wobble in value against both the Euro and the dollar, there is one destination where Brits can rest assured the pound will always be king: Morocco.
Morocco – which is under 4 hours away – has great diversity in a relatively small area; the Atlas Mountains, ancient imperial cities such as Marrakech, the Sahara Desert and the Atlantic coast. Each can be enjoyed on their own, or combined to make a great tailor-made tour combining two or more elements; here are just a few suggestions…
Short Break to Marrakech: three nights from £150 pp
Marrakech is one of the world's greatest, ancient cities, with its famous Jemaa el Fna square, which bursts into life at dusk every evening when the food vendors, acrobats, jugglers, musicians and snake charmers arrive to ply their trade. Avoid the soul-less hotels on the outskirts, and stay in a traditional riad within the city walls. Fleewinter has a choice of over 30 riads including Riad Papillon, located in a quiet street just a few minutes' walk from the Medina. The five bedroomed property has a patio with heated swimming pool, and a roof terrace with views over Marrakech towards the Atlas Mountains in the distance. The price of a three- night break is from just £150 pp (two sharing), including airport transfers and breakfast.
Marrakech & Atlas Mountains of Morocco: four nights from £255 pp
Why not experience both bustling Marrakech and the peaceful High Atlas Mountains on the four-night Marrakech & Atlas Mountains break? So short is the distance involved that it is possible to leave the crazy chaos of the Marrakech Medina and be in splendid isolation in an Atlas mountain refuge in under an hour. The first two nights will be spent at Riad El Zohar, a traditional property in the Medina. On day three, a private chauffeur will transfer you to Douar Samra in the Atlas Mountains, where you can simply relax or perhaps enjoy a guided walk. The price of the break is from £255 pp (two sharing) and includes breakfast and private transfers.
Spend a Week on the Atlantic Coast from £275 pp (save 20%)
Rebali Riads is a recently built boutique hotel comprising six separate, traditional riads with modern touches such as remote controlled sliding glass roofs. The properties are fully-serviced by onsite staff including cooks, who can prepare meals and deliver them to the riads. Facilities include a tennis court, swimming pools, and a hammam. Local activities include camel treks, wind/kite/board surfing (with tuition if required), yoga sessions and mule rides to a local Berber village to join a family for lunch. A week-long stay from now until late September costs just £275 per person (based on four sharing) – saving 20% off the usual rate.
All prices quoted do not include flights which are bookable through Fleewinter.
For more information, visit fleewinter.com.