Beware of the Tortoises!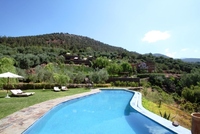 Kasbah Africa in the Atlas Mountains of Morocco has just taken delivery of four African Spurred Tortoises. They are the third-largest species of tortoise in the world; adults are up to 36 inches long and can weigh 200lbs.
They grow from hatchling size very quickly, reaching 6-10 inches within the first few years of their lives (the lifespan is about 50–150 years.
Comments Nick Anstead, Managing Director of Kasbah Africa: "African Spurred tortoises are ideally suited to the boulder-strewn mountainous environment of Kasbah Africa and have a very pleasant temperament - they are already very popular with young and old guests alike. A particular favourite is Herbert-Pickles, a tiny 3 month old rescue tortoise who already has a following on Facebook!
"We are also in the throes of planning a Chameleon Sanctuary which will be centred around one of our huge fig trees, which are the perfect habitat for them.
"Longer term plans are to develop a private Atlas Mountain wildlife sanctuary, which will be the first of its kind in the region."
Kasbah Africa is an eight-suite retreat – each of which has 40 square metres of living space with panoramic, mountain and Azzaden river views – located in the Toubkal National Park, in the heart of Morocco's Atlas Mountains.
The suites – which can comfortably accommodate a family of two adults and two children – have spacious bathrooms and are furnished with hand-crafted, walnut furniture, with either two large singles or a super king size bed, wood burner, Berber rugs, sofa and lounge chairs.
The property has a roof terrace, with sunbeds, tables and chairs – perfect for a sundowner gin and tonic or for stargazing in the crystal clear Moroccan skies (the rooms also have telescopes and binoculars which are free for guests to use).
Other facilities include a large swimming pool and lawn, Berber tent, extensive landscaped gardens with abundant fruit and olive trees, bar, lounge and restaurant.
Local activities available include guided walks to nearby Berber villages, Atlas treks, Toubkal climbs, nature trails, mule treks, cooking courses, and 4×4 trips to remote mountain villages and beyond.
A four-night-break in late May or early June costs from just £147 pp, based on two adults and two children under 15, which includes return airport transfers (in a 4X4), full-board accommodation and a guided walk. Extra nights in Marrakech at the beginning or end of the break can be arranged on request. Flights extra.
For more information, visit kasbahafrica.com.