The Gnawa and World Music Festival, Morocco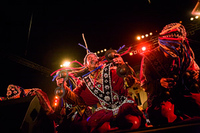 For four days every spring, Essaouira, the former Portuguese fishing port on the Atlantic coast of Morocco, is taken over by the The Gnawa and World Music Festival which features masters of Gnawa music, performing alongside some of the best musicians in world music.

The danceable, African Islamic music, shares its routes with America blues, originating from the times in which slaves were brought to Morocco from sub-Saharan Africa. The slaves formed brotherhoods and played music with spiritual and religious connotations.
Instruments traditionally played by Gnawa musicians include gimbri, a three-stringed bass lute, large metal castanets and drums. The festival itself has grown from strength to strength since it first started in 1998, and is considered to be the 'African Woodstock', encompassing not only music but also a dissemination of the Gnawa culture and spirit.
Thousands of people crowd the streets between open-air stages, as the Gnawan musicians demonstrate many different styles with some sessions lasting deep into the night.
Songlines Music Travel has an annual, small-group pilgrimage to witness this soul-enriching event, spending three full days (and nights) enjoying the festival, before heading back to Marrakech, to enjoy a last night enjoying the souks and the main square, which bursts into life at dusk every evening, when the food vendors, musicians, acrobats, snake charmers and fire eaters arrive to ply their trade.
The holiday costs from £875 pp (2 sharing) which includes return transfers from Marrakech to Essaouira, two nights' B&B in Marrakech (at the start and end of the trip), three nights' B&B in Essaouira and the services of an expert Songlines Music Travel leader.
Flights not included (bookable through Songlines Music Travel).
For more information, visit songlinesmusictravel.com.