How Mazda6 will boost eco credentials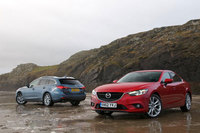 Mazda's revolutionary SKYACTIV has become one of the most-talked about eco technologies despite being up against bigger players such as BMW with its well-known Efficient Dynamics and Volkswagen's BlueMotion.

The challenge with the launch of all-new Mazda6 in January was to make sure that the message, successfully delivered with the Mazda CX-5 crossover earlier this year, continued to be understood by customers. "The Mazda CX-5 with 119g/km has already won a collection of awards – What Car?'Best Buy' SUV 2012 award in the under £25,000 category, the 2012 What Car? Green SUV Award, the 2012 SCOTY (Scottish Car of the Year) Safety Award and more recently Total 4x4 magazine's 2013 Green Award – and with the all-new Mazda6 having CO2 emissions from just 108g/km, we have a really successful story on our hands if the message is right." said Claire Andrews, Marketing Director for Mazda Motors UK.

The challenge is "demystifying the technology," she said. "We've done that in a number of ways. The all-new Mazda6 app* gives a full 360 degree view of the car and mazda.co.uk features CO2 comparison tools to calculate mpg and road fund licence customer savings versus competitor cars, along with videos which explain our ground-breaking technology.

"In the dealerships we have tablets explaining how i-ELOOP [Mazda's regenerative braking system] works, how the engines work and all the other SKYACTIV details. This allows sales staff to walk customers around the car and bring the technology to life by focusing on important customer benefits such as cost of ownership savings," said Andrews.

Andrews explained: "When the original Mazda6 was launched in 2002, it really kick-started Mazda in the UK. It outsold the competition for years in the retail sector. All-new Mazda6 does that again with its new technology, plus it's a real head-turner with great interior quality.

"We're up against some very established players like BMW 3 series and Audi A4. At the same time we need to distinguish ourselves from cars like the Hyundai i40, Ford Mondeo and Vauxhall Insignia. We're after independent thinkers, people who don't want a business suit on wheels. The all-new Mazda6, by being different, will really capture their imagination," concludes Andrews.

All-new Mazda6 priced from £19,595 to £28,045 (on the road). The 150ps 2.2-litre SKYACTIV-D Saloon diesel has class-leading CO2 emissions of just 108g/km and combined fuel consumption of 67.3mpg. Benefit in Kind tax for a 40 percent tax payer is £127 a month (Sport trim).

*The new app is designed for Apple and Android devices and includes high-resolution, 360-degree exterior and interior views. Users can sit virtually in the spacious all-new Mazda6, as if they were in the actual car. The free app can be downloaded from Apple's App Store and the Google Play shop for Android: play.google.com/store/apps/details?id=info.burrows.mazda.mazda6.