Fiat 500L: 500 goes large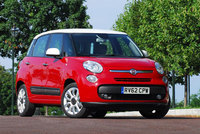 The widely acclaimed Fiat 500 family has expanded dramatically with the launch of the all-new 500L. Designed for customers who want a car that combines the 500's unique personality, style and image with added practicality, capability and size, the five-door 500L goes on sale at the end of the first quarter of 2013.

The Fiat 500L mixes user-friendly technology with eco-friendliness and plenty of space, all wrapped up in a characterful package. This combination of Italian style together with Fiat's unique ability to conceive and design cars that are innovative in substance and form, makes it much more than just a typical mini MPV.

By expanding on its concept of 'space efficiency', Fiat has developed the new 500L, combining practicality and internal flexibility to produce a distinctive and versatile vehicle, while incorporating the spirit and attitude of the 500.

The 'cab forward' design frees up passenger space inside. It means the Fiat 500L can easily accommodate five passengers with five suitcases. The 500L also has a spacious feel thanks to extensive glazing. This includes windscreen pillars that have been divided and tapered to improve visibility and increase the car's strength in case of a collision. A knock-on effect is that the Fiat 500L has already been made a five-star car crash safety by Euro NCAP.

Although it will be classified as a mini-MPV, the Fiat 500L has the 500's fun, cool and cheeky attitude to ensure it appeals to owners who want more than just a functional family car. As well as being the most space-efficient passenger car in relation to its size, it has the widest range of colours in its segment. Compared to its rivals it has the cleanest petrol engine, the best passenger volume index, the biggest touchscreen radio and the largest glass roof on sale. There's an enormous range of options specifically designed to make life with the 500L better. And it continues the Fiat tradition of offering technical solutions that make life simple while being easy to operate.

Fiat believes this unique ownership proposition will ensure that 500L owners won't be pigeon-holed into regular demographic groups. Age, geographical location, job and income won't define them; their attitude to life will. They'll be the sort of people who are looking for a car to be an extension of their personality and reflect their passion for life. They'll always be hunting out new fashion trends, love customisation and embrace new technologies. They will grow as people without growing out of their passion for style, design and early adopting.

Continental buyers of the Fiat 500L have already proved this by coming from a wide range of backgrounds. Fifty seven per cent of 500L customers migrate from other brands with 61 per cent from other segments including 37 per cent from the B segment, 16 per cent from the C segment and 8 per cent from the A segment.

To cater for this variety of owner, great care and attention was paid to the technology and materials used inside. The Fiat 500L becomes the first of the company's cars to use the new UConnect touch screen infotainment system. This allows media players and mobile phones to be connected to the car and controlled via voice, the steering wheel or touch screen. The 500L also has available City Brake Control, a system designed to watch over the driver and either prevent or lessen the damage in low-speed collisions. And there are some other unique options. It'll become the first car ever to have a Lavazza coffee maker built into it. There is a Beats by Dr Dre in-car sound system for audiophiles plus many other options for owners to personalise their cars further.

Emphasising the Fiat 500L's functionality, the 1500 configurations of interior space meet a vast range of diverse requirements. The boot has 400-litres of space and by using the Fold&Tumble function on the rear seat and folding the front seat down, an object that's 2.4m long can be stowed on the flat load surface. The Cargo Magic Space system allows the boot to be split into sections and there are 22 compartments of differing size in the cabin as well as multi-adjustable seats front and rear.

The Fiat 500L has three trim levels, Pop Star, Easy and Lounge, plus four engine options: 1.4-litre Fire petrol and the 875cc TwinAir Turbo, plus the 1.3 (with manual and automatic transmissions) and 1.6-litre MultiJet 2 turbo diesels.

The 500L has been priced to offer exceptional value for money and to offer a superior standard of equipment compared to the main competitors. The Pop Star and Easy models both cost £14,990 but feature different equipment to target different customer profiles. The top of the range Lounge trim costs only £1400 more but has £2000 worth of extra equipment. Moving from the 95hp 1.4-litre petrol to either the 105hp TwinAir Turbo or the 85hp 1.3 MultiJet costs £1500. To go up to the 105hp 1.6 MultiJet is £1000. The MTA dualogic transmission on the 1.3 MultiJet is £900 more than the regular manual gearbox.

The Fiat 500L is built at the newly opened Kragujevac plant in Serbia. To date, 500L has attracted over 38,500 orders in mainland European markets, just five months after going on sale, over half of which are from outside Italy.