Algarve beaches are among the best in Europe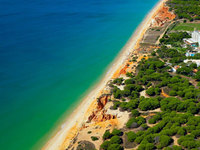 Two of the Algarve's beaches have come in the top 25 in Europe as voted for by millions of travellers around the world who were polled for the TripAdvisor Travellers' Choice Awards this month. The region's Falesia Beach situated in Albufeira was voted the 18th best beach in Europe while Ponta da Piedade in Lagos ranked 22nd in the poll.
In addition the TripAdvisor Travellers' Choice Awards announced that nine out of Portugal's top 25 beaches are located in the Algarve, with Falesia Beach coming in first place. Ponta da Piedade in Lagos came in third place, Olhos de Agua Beach in fourth and Praia Da Rocha, and Praia Dona Ana in Lagos coming fifth and sixth respectively. The Algarve can add this recent achievement to a portfolio of awards including the 2012 World Travel Award for Europe's Leading Beach Destination.
Desidério Silva, Algarve Promotion Bureau President commented: 'I speak on behalf of everyone at the Algarve Promotion Bureau when I say how honoured we are for our beaches to have been recognised as among the best in Europe. We would like to thank all those who took voted in the TripAdvisor Travellers' Choice Awards, visitors to the Algarve have long valued the region's pristine beaches which is why we welcome back holiday-makers to our coasts each summer. Sun and sea is of course a key product area for the Algarve and we will continue to maintain the high standards which have won international recognition for our beaches. We will be treating these awards as a benchmark for next year for us to strive to be placed even higher'
The Travellers' Choice Beach Awards polls beaches in countries all over the globe as well as rating shorelines in each continent and an overall Top 25 Beaches in the World. The data is collected by Trip Advisor, the largest travel site in the world, over a 12-month period from the 2013 awards and is entirely based on travellers' reviews and ratings.
White Zayas, heads of communications for Trip Advisor, the world's largest travel site, commented on these recent results: 'for those planning their summer holiday or simply looking for a weekend getaway by the sea, these results are inspiring and this is thanks to the opinions of Trip Advisor travellers who have visited these beaches and thus rated them highly'.
The Algarve is situated in the far south of Portugal. The region's landscape is characterised by cliffs, caves and its golden-sand beaches that stretch across 200km. With an average temperature of 29 degrees and approximately 300 days of sunshine a year, it attracts UK visitors throughout the year seeking warmer climes. Seventy-four of its beaches have been awarded with Blue Flag status, the highest number of flags in Portugal. The flags are awarded season by season to beaches that have a high standard of water quality, safety, services, environmental education and management.

For more information on the Algarve, visit visitalgarve.pt / algarvepromotion.pt