Volvo plug-in diesel hybrid approved for Government's Plug-in Car Grant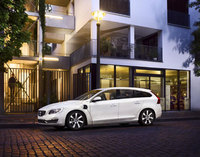 The world's first diesel plug-in hybrid, the Volvo V60 D6 AWD, has received approval for the Government's Plug-In Car Grant (PICG) which is designed to offer incentives for buyers to choose new ultra-low carbon cars. In this scheme, buyers will receive a £5000 grant towards the purchase price of the vehicle, meaning it will be available with an on-the-road price of £43,775.

In order to qualify for the grant, the vehicle must fulfil a number of conditions, such as battery warranty, crash safety, battery safety and also CO2 emissions. With quality, safety and the environment being strong brand values of the Volvo Cars Group, these were always on the project team's agenda.

Ian Howat, head of product and pricing at Volvo Car UK, said: "The V60 Plug-in Hybrid has been a worldwide success with the initial run of 1000 cars sold out before the car reached the showrooms. Now that we have received the UK Government's plug-in grant I'm sure the world's first plug-in diesel hybrid will become even more attractive to UK customers wishing to purchase leading vehicle technology."

The driver of the V60 Plug-in Hybrid is putting an end to compromise via three driving mode buttons on the dashboard: Pure, Hybrid and Power.
In Pure mode the car is powered solely by its electric motor as much as possible. If the battery pack has been recharged with electricity from renewable sources, its range is up to 31 miles with no carbon dioxide emissions from the tailpipe. The electric range varies with terrain, climate and driving style.
Hybrid is the standard setting whenever the car is started. The diesel engine and electric motor cooperate to ensure optimal balance between driving pleasure and environmental footprint. CO2 emission (NEDC, mixed driving cycle for certification) is just 48g/km and it has a total range of up to 560 miles.
In Power mode the technology is optimised to give the car the maximum possible power. The diesel engine and electric motor have a total power output of 215+70 horsepower and maximum torque of 440+200Nm. The electric motor's lightning-quick torque delivery contributes to the car's acceleration from 0 to 62mph in 6.1 seconds.

The model year 2014 Volvo V60 Plug-in Hybrid will be unveiled at next week's Geneva Motorshow and it features a number of updates to the styling of the interior and exterior. Full price and specification levels are expected during April, with customer deliveries taking place from July.