Spring over to Sark from Guernsey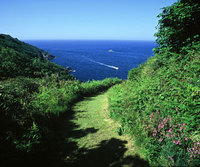 A walk along Guernsey's spectacular coastline offers stunning views across the English Channel and intriguing glimpses of the neighbouring islands of Sark and Herm rising up out of the sea. Guernsey is a great base for hopping between the other islands with daily ferries and boat trips from the capital St. Peter Port to its sister islands, which are also a great way to discover deserted beaches, dramatic cliffs and hidden alcoves.
Less than an hour's boat ride from St. Peter Port, Sark is a traffic-free paradise with a gloriously laid-back pace of life. To celebrate the start of spring, Stocks Hotel has got some interesting events lined up to lure visitors over for a day or two and combine a trip to the picturesque island with a chance to learn something new. There's a great selection of evening activities and themed weekends coming up, such as culinary master classes, a foragers weekend by River Cottage and a malt whiskey tasting menu. Visit Guernsey has picked their favourite offers for a springtime trip to the neighbouring island.
Cookery Classes
Sark's first ever cookery school is opening later this month when guest chef Dean Hodkinson from Café D'Escalier on Guernsey hosts two culinary classes at Stocks. Dean will be teaching French, English, Thai and Italian style cuisine, while sharing some classic techniques together with some tricks of the trade. At the end of each class Dean will cook and prepare a sumptuous three-course dinner menu incorporating the ingredients from the classes. The classes take place on Friday 22nd and Saturday 23rd March from 5.30pm to 7.30pm at Stocks Hotel. Exclusive overnight packages start from £180 per person.
For more information, visit:
stockshotel.com/food-drink/the-sark-cookery-school
For more information on Café D'Escalier on Guernsey, visit:
lescalierguernsey.co.uk/cafe_descalier
Yoga Weekends
With no cars allowed on Sark, the island is already a perfect peaceful retreat and there's no better place to harmonise mind, body and soul than during a yoga weekend at Stocks this spring. The classes are suitable for all levels and abilities, so beginners and the more experienced alike can escape to Sark to gain a sense of peace and calm from deep within. There are two long weekend yoga retreats at Stocks planned, from Friday 29th March to Monday 1st April, and Friday 26th to Monday 29th April. Prices and packages vary depending on the weekend.
For more information visit:
stockshotel.com/the-ultimate-yoga-break/
Malt Whiskey Dinner
Those fond of a wee "golden" dram won't want to miss out on this unique evening at Stocks, when the Guernsey Malt Whiskey Society will be guiding diners through the subtle nuances and surprising taste combinations of a selection of single malt whiskies. Each of the four-courses will be matched with a malt whisky and finished off with an array of cheeses. The dinner takes place on Tuesday 18th April and is priced at just £50 per person. Overnight packages are available.
For more information visit:
stockshotel.com/tutored-whiskey-evening/
Wine Tasting and Gourmet Weekend
Thomas Hetherton from Guernsey's Fine Wine Cellar Company will be popping over to Sark for a gastronomic weekend. Food and wine enthusiasts will experience the best of the Channel Islands' fresh, local produce combined with some fine wines. The first evening will feature an informal wine tasting of seven single grower wines, followed by a supper with the wines from the tasting. A five course gourmet dinner is served on the second night prepared by Stocks' head chef Byron Hayter. The weekend takes place from Friday 10th to Sunday 12th May. The weekend is priced at £290 per person, based on two people sharing a double or twin room, and includes wine tasting dinners on Friday and Saturday night, two nights' accommodation and full Sark breakfast.
For more information visit:
stockshotel.com/tutored-wine-tasting-night/
Foragers Weekend
The team from River Cottage returns to Sark for a weekend of foraging, smoking and curing at Stocks. Discover edible delicacies down on the seashore, in the hedgerows, meadows and woods from wild food fanatic John Wright, while also exploring Sark's secluded coastline and rural interior. The weekend includes a pre-dinner talk by John and his River Cottage guests - head chef Gill Meller and smoker and curer, Steven Lamb. The gala dinner on the Saturday evening will be a Sark feast featuring local produce and using the foraged ingredients from the day. The foragers weekend take place from Friday 24th to 26th May. The weekend package is priced at £295 for single occupancy or £465 for two people sharing a double or twin room.
For more information visit:
stockshotel.com/foragers-weekend/
For further information on Sark and other accommodation options log on to visitguernsey.com/-Sark
Getting There
Sark Shipping Company (sarkshippingcompany.com / 01481 724059) sails daily from St Peter Port in Guernsey to Sark year round, although times and frequency vary depending on the season. Journey time is approximately 55 minutes. Adult return fares are £27.50.
Flights to Guernsey from London Gatwick are available with Aurigny (aurigny.com) and Flybe (flybe.com). Return flights in March start from £74 per person including mandatory taxes and charges. Departures from several regional airports are also available and sea crossings are available from Poole and Weymouth.