Delicious Guernsey cuisine for a 'tenner' at the 18th annual Tennerfest this autumn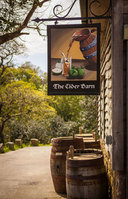 From 1 October to 11 November, Guernsey will hold its 18th annual Tennerfest, which will see over 170 restaurants in Guernsey and its sister island of Sark offer three course menus starting from £10 (£12.50, £15, £17.50 and £20 menus also available). These special menus represent savings of almost 50% on normal prices and include Guernsey's fresh seafood and locally grown produce, all whipped up with the island's unique gastronomic flair. Menus and further details are available at tennerfest.com.
Tennerfest is one of Guernsey's most popular foodie events with an estimated five million Tennerfest meals consumed since the events inception in 1998. Figures show that more than 300,000 covers are served at each Tennerfest, an incredible feat for some small islands!
All Tennerfest participants offer innovative menus focusing on Guernsey ingredients and specialties such as Guernsey Gâche, a fruit loaf often served with Guernsey butter; the traditional 'bean jar', a one pot meal cooked overnight and made of beans, pork belly and onions and Gâche Méléé, which is similar to an apple cake. Guernsey made cheese is also offered for dessert on many menus with locally brewed beer and cider offered alongside the menus.
An example of a three course £10 menu is homemade soup to start, then fresh fillet of seabass with garlic butter and a selection of desserts to finish. An example three course menu for £17.50 is pan seared scallops to start, followed by fresh seabass with butternut squash bisque and Guernsey Cheddar for dessert.
Tennerfest started in 1998 as a way of attracting visitors during the traditionally quieter shoulder season but today it is the most important event of the year for restaurant owners in the Channel Islands and helps to bridge the gap between the busy summer season and Christmas. With inflation, the 'tenner' of 18 years ago means that menus start at £10 but there are also fixed price menus at £12.50, £15, £17.50 and £20.
Tennerfest package
Channel Islands Direct is offering a four night Tennerfest stay at the 4*Duke of Richmond Hotel from £335pp by air from Gatwick; including return flights from London to Guernsey, four nights' accommodation at the 4*Duke of Richmond Hotel, one cream tea, one three course Tennerfest lunch or dinner at the Duke of Richmond, one three course Tennerfest lunch or dinner at the 5*Old Government House hotel and breakfast throughout. Price based on two adults sharing and is valid for stays between 1st October – 11th November 2015, subject to availability at time of booking. channelislandsdirect.co.uk