Trackday enthusiast Honour to build own car for Clio Cup Series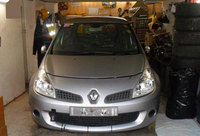 Renaultsport Trackday enthusiast Jake Honour is the latest motor racing rookie to commit to making his competitive debut in the all-new Michelin Clio Cup Series with Protyre after today, Wednesday, 13th March, confirming he will campaign a self-converted Clio Renaultsport 197 road car.

The 21-year-old, from Melksham in Wiltshire, purchased his Clio two years ago for trackday events but always thought competitive motorsport was beyond his reach from a financial perspective. That view changed, though, after reading about the cost-effective British Automobile Racing Club (BARC) administered series on the official Renaultsport website renaultsport.co.uk.

Honour, who is a qualified mechanical engineer by trade, will himself undertake the majority of conversion work on his road-going Clio utilising the official parts kit which is distributed by exclusive supplier Monster Sport Europe.

In terms of track preparation the youngster has already been receiving some essential driver tuition from reigning Renault UK Clio Cup Champion, and British Touring Car Championship graduate, Jack Goff in order to try and make the most of his first ever season of competitive motorsport. First though, he needs to pass an ARDS test – scheduled for early April – in order to gain his racing licence.

"It's only recently I've been interested in racing really, the last three or four years, but I didn't think it would be possible financially to actually get out there and do it", said Honour, "If I was going to try and race I wanted it to be in a one-make series, so this is absolutely perfect.

"I'm doing everything myself pretty much, I've had the Clio I'll be racing for two years and I'm doing all of the work fitting the components from the kit. I'll be going to Mark Fish [official Michelin Clio Cup Series with Protyre partner] to have the Safety Devices roll cage fitted and I'll also probably ask him for some help with the suspension settings."

Honour's move from trackday participant to fully-fledged racer perfectly showcases the foundations on which the Michelin Clio Cup Series with Protyre is built. The whole philosophy of the category is to provide a cost-effective series in which those who have never competed before can embark on their first ever motor racing experience in a thoroughly professional, highly supportive environment.

Prior to purchasing his Clio Renaultsport 197, which he will run with Michelin Pilot Sport 3 treaded road tyres in the Clio Cup Series, Honour owned a Twingo Renaultsport 133 with which he enjoyed 18 months of very happy motoring and trackday events. As a true fan of the Renaultsport brand, the racing newcomer is relishing the prospect of competing against like-minded enthusiasts.

"It's all pretty exciting really, I can't wait for the series to start", he added, "The plan really is to just see how I go, it's my first year in racing so I just want to take it one race at a time and if it goes well then I'll start approaching a few places to see if we can secure some sponsors. It's obviously early days but hopefully, with what I've learnt from Jack [Goff], we can have a good go at it!"

The inaugural Michelin Clio Cup Series with Protyre campaign will begin on 11th/12th May at Norfolk's Snetterton Circuit before visiting Croft in North Yorkshire, Rockingham in Northamptonshire and Kent's Brands Hatch Indy Circuit. In total, the series will comprise eight races.

Along with headline sponsors Michelin and Protyre, the Clio Cup Series is additionally supported by Safety Devices, Monster Sport Europe and The Lubricant Consultancy.