Renault confirms prices for Clio Renaultsport 200 Turbo EDC range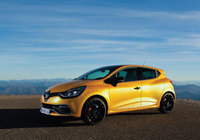 After much media and internet forum speculation following its world debut at the Paris Motor Show last September, Renault has confirmed UK pricing and specification for one of 2013's most talked about cars, the new Clio Renaultsport 200 Turbo. Its new supermini pocket rocket, available in two versions, will start from an enticing £18,995. Only £100 more than the three-door, manual Peugeot 208 GTi and £1,055 less than the lower-powered, DSG-equipped five-door Volkswagen Polo GTI.

Details of the wealth of technical additions and upgrades made to the new flagship Clio were released last month, but to recap, several new highlights for arguably the finest hot supermini are its six-speed EDC (Efficient Dual Clutch) gearbox with aluminium gearshift paddles fixed on the steering column (shift time of under 150 milliseconds in Race mode) as well as three driving modes: Normal, Sport and Race (ESC disconnected off and gearshifts solely manual). Reassuring any potential doubters that the latest version of the iconic Clio Renaultsport might be any less focused on road or track than before, it can still be specified with a Cup Chassis. It's also got two mouth watering functions up its sleeve - Launch Control and the world's first sub-supercar multi-change down function. Both of which might just come in handy at the odd trackday. Or, a weekend blast.

Whichever version of Clio Renaultsport 200 Turbo buyers opt for, it'll fit into their daily lives effortlessly. The new model still packs 200hp, but its better off to the tune of 25Nm greater torque, together with a healthy dose of it mid-range. It's also quicker from 0 to 62 mph, 0.2 seconds swifter to be precise, at 6.7.

It won't be the main purchase reason for many buyers, but nevertheless, Clio Renaultsport's new five-door practicality is sure to appeal to many, particularly family buyers. One minute it's a swift commuter car, the next it's a B-road mile-eater. Easily distinguishable from its humbler siblings, the latest version retains its performance aura through 17" or 18" Renaultsport alloy wheels, rear diffuser and lip spoiler, F1-style front blade and rectangular chrome twin exhausts. Those wishing to make it stand out even more can opt for Renault i.d. metallic paint, in either Liquid Yellow or Flame Red hues.

The sporty touches continue on the inside. Among them are a leather steering wheel, Renaultsport front sports seats, bespoke grey instrument backgrounds and aluminium pedals and gearlever. Red detailing also features heavily. The gearlever surround, steering wheel R.S. logo: with the seatbelts and instrument needles being prime examples. Red's also been used for the visible stitching on the steering wheel's 'straight ahead' position marker, the air vent surrounds and door panel beading. The gearlever knob, too, comes with red touches which are echoed by the visible stitching of the gearlever gaiter.

The standard kit list for Clio Renaultsport 200 Turbo is impressive. Air conditioning, ESC (Electronic Stability Control) and ETC (Electronic Traction Control), keyless start and entry, integrated MediaNav seven-inch touchscreen including 4x20W Arkamys audio with Bass Reflex speaker system, Bluetooth and USB input all feature. More equipment comes courtesy of cruise control, electric door mirrors, Renaultsport front seats, and probably something that plenty of owners might need every now and then, a speed limiter. The standard tyre is Goodyear Eagle F1 Asymmetric 2.

Moving up to the top-of-the-range Lux adds plenty of creature comforts. Infotainment gets a boost through an enhanced 4x35W Arkamys 3D Sound audio system plus two tweeters, and the MediaNav system morphs into the integrated R-Link multimedia system. It features the same seven-inch touchscreen, but welcomes Carminat TomTom Live navigation with three months free subscription and Renault App Store access. Added convenience is dialled in via auto lights and wipers, climate control, electrically adjustable and folding door mirrors, extra tinted rear windows and tailgate, plus electric rear windows

Both trim levels also feature one extra new addition, Renaultsport Sound Pipe. The Renaultsport team have already fine tuned the latest generation's exhaust note, but to ensure those inside appreciate it fully, they've fitted the new Renaultsport Sound Pipe. The new system works simply by transmitting the engine noise into the cabin via a pipe, which amplifies it mechanically using a membrane.

Naturally, as a Renaultsport creation, buyers seeking an even more focused drive can opt for a Cup chassis. Half of buyers traditionally do. This time, for £450, it offers a 3mm lowered ride height, 15% stiffer chassis and quicker steering rack, red brake callipers and gloss black 18-inch Renaultsport wheels shod with Dunlop Sport Maxx TT tyres.

Unsurprisingly, Renaultsport buyers tend to spec their cars quite highly. As the flagship for the Clio range, they won't be disappointed on this front. Both versions are available with 18" alloy wheels (£185), rear parking sensors (£315). heated front seats (£250), metallic paint (£495 (Renault i.d. Liquid Yellow £1,300 or Flame Red £595)) and dark carbon full leather upholstery (£1,000).

Additionally, the standard Clio Renaultsport 200 Turbo can be had with extra tinted rear windows and tailgate for £250 and climate control for £410, while Lux can feature a rear parking camera for £350. The range-topping Lux is also the first model from Renault's performance arm to boast the second-generation Renaultsport Monitor (v2). An on-board telemetry system, it displays real time torque, G-forces, lap times and standing starts among others, as well as the ability to download data to USB. It costs a temptingly affordable £95. One of the reasons why up to a third of Lux orders are expected to be specified with it.

Rounding off the plethora of technological additions is R-Sound Effect. Thanks to the fitment of R-Link, Lux buyers will be able to enjoy this built-in fun app for free, which reproduces the sound of several high-performance engines and plays them back via the car's own speakers. A choice of seven sounds is available, three of which are specific to the new Clio Renaultsport 200 Turbo (Alpine A110, R8 Gordini and Nissan GT-R).

Ordering for the new Clio flagship opens on 8 April 2013, before taking centre stage in showrooms from June.