Tree Tent to be hoisted at The Secret Campsite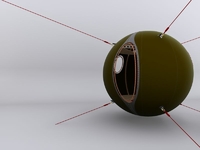 The Secret Campsite is to suspend a tent between trees at its wildlife friendly site near Lewes in East Sussex. Campers can book the Tree Tent now for overnight stays from the beginning of May.
Unlike other tree house structures which are bolted to the tree, or supported by poles planted in the ground, the ground-breaking Tree Tent is similar to a harvest mouse nest – suspended between several trees with which it can move in unison.
Guests at The Secret Campsite will enter the Tree Tent via a raised wooden walkway that leads up from the edge of the camping meadow to a secure platform.
They will unzip the door and step onto the sea grass covered wooden floor with two adult–sized, suspended, single beds and windows with views across to The South Downs National Park and the species-rich camping meadow. There is also space for a small person to sleep on the floor. Extra members of a party can be accommodated on the camping pitch below in their own tent.
The Tree Tent pitch has its own fire pit and a covered eating area. Guests have access to camp cooking equipment including a gas-fired hob, plates, pots, cutlery and mugs, and will find light refreshments awaiting them on arrival.
Small and peaceful and opened in August 2012, The Secret Campsite is tucked away in wooded countryside, 5 miles north of Lewes. The site reveals its surprising secrets to campers during their stay, revolving around wildlife, edible plants and interesting structures in which to spend the night.
The site is managed to encourage wildlife into the camping areas with over 1000 trees having been planted in the last 5 years, partly funded by a grant from the Woodland Trusts, Jubilee Woods programme. Barn owls, stoats, deer, glow worms, grass snakes, kestrels and woodpeckers thrive and there is a huge range of farm and woodland birds, butterflies and other insects to enjoy.
The planting plan for the site has used an eclectic range of edible plant species – both natives and non natives. In time campers will be able to forage from these plants, to add to salads, teas and cooking, as well as discovering surprising fresh fruits to pick and eat as they explore. Edible species planted so far include; Elder, Walnuts, Lime, Chinese cedar, Blue sausage trees, Mulberries, Lemon verbena, Red clover and Day lilies. Many more plants are due to arrive during the summer.
In the coming months The Secret Campsite will be adding other unusual structures for campers and guests to spend the night in, with a number of designers, engineers and inventors set to showcase their unique and contemporary shelters around the site to compliment the beautiful landscape that is being created.

"By the time campers leave they will have a secret to share," said The Secret Campsite owner Tim Bullen, who added, "We hope they will have had the chance to experience something new and invigorating, be it a plant, an animal, or just somewhere surprising to spend the night.
Pitches at The Secret Campsite are large, well spaced and surrounded by an abundance of meadow grasses, flowers and trees.
The Tree Tent, which cost £8,000+VAT, offers a British twist on low impact shelters, and it follows hot on the heels of more conventional, but imported, structures such as yurts and tipis that are fast growing in popularity."
"The Tree Tent is akin to an airship, blending two very different engineering materials; aluminium and wood and using design cues from early zeppelins and lightweight aircraft," said its creator Jason Thawley of design studio Luminair, adding, "They provide low impact integration into the woodland at any time of year for recreation, research, conservation or education."
The camping meadow is bordered by Ancient Woodland, and a Site of Nature Conservation Interest, and is kept dog and car free to encourage an abundance of wildlife into the site. The subsequent peace and tranquility of the camping meadow allows children to explore the site safely. Once here, campers can look for and watch wildlife, as well as building dens and enjoying campfires and time with their parents.

An old stable has been converted into a new shower and toilet block. The free hot showers housed in a converted stable are powered by a solar system.
The Tree Tent is available to rent at £95 per night with a minimum of 2 nights at weekends. Tent pitches for up to 6 people cost £10 to £13 per adult per night. Children £5 to £6.50. Under 5s free.

For more information, visit thesecretcampsite.co.uk.