Top 5 cycling holidays for spring 2013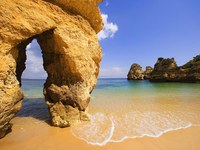 Once Easter weekend has passed and the clocks move forward an hour, the longer evenings bring a renewed sense of energy and motivation to holiday plans. The early days of spring are primed for a gentle and leisurely cycling holiday, with warmer temperatures, nature bursting into bloom, fewer tourists and very attractive low season airfares. Be inspired with Freedom Treks top 5 picks for the best early season cycling tours in Europe this April and May.
1. Tulip Tour - Holland

This 4-day bike and barge guided tour allows you to experience the wonders of Holland in springtime, bathed in colour from the vast carpet of tulips, hyacinths and daffodils. Leaving Amsterdam behind, travel by barge to Spaarndam and make a short cycle trip to Haarlem. The next day the barge will drop you off in Lisserbroek, from where you can cycle to 'Keukenhof', the famous flower garden. This year's theme, "UK – Land of Great Gardens", plays a colourful tribute to the UK. The RHS (Royal Horticultural Society) will showcase some of the most exceptional gardens from the UK. The highlight will be the mosaic of Big Ben and Tower Bridge created from almost 60,000 flower bulbs. The cycling tour continues through the bulb fields to Leiden, before cycling through the 'Green Heart' of Holland to Uithoorn, with a visit to a traditional cheese farm and windmill. An early start on the last morning allows you to make a short visit to the world's biggest flower auction in Aalsmee, before heading back to Amsterdam by barge.
How much? This 3-night, 44-mile guided tour starts from £349 (bunk cabin) or from £414 (twin cabin), including bike hire, entrance to Keukenhof Flowerpark and tour guide. Board basis includes breakfast, lunch and evening meal. Departures on Tuesdays and Saturdays from 2nd April to 14th May. Grade: Easy. Flights to Amsterdam start from £77 return with easyJet or by Eurostar to Amsterdam.
2. Amsterdam to Bruges

A classic must-do bike and barge tour taking in the most beautiful and historical cities of Holland and
Western Belgium (Flanders) including Amsterdam, Antwerp, Ghent and Bruges. The tour starts in Amsterdam, which is celebrating a host of anniversaries in 2013. This year marks 400 years since the construction of Amsterdam's canal ring, which was added to the UNESCO World Heritage site in 2010. The Van Gogh Museum celebrates its 40th anniversary, marking 160 years since the birth of Van Gogh himself and after 10 years of renovations, the Rijksmuseum will re-open its doors to the public on 13 April. The 7 night tour will take you through picturesque landscapes, charming towns and includes a visit to one of the most well-known tourist sites, the impressive row of 19 large windmills built in 1740 and now a UNESCO World Heritage Site.
How much? This 7-night, 153-mile guided or self-guided tour starts from £644 per person in a twin cabin, including full board basis and maps and route information. Services of a bike guide included on the guided tour. Bike hire costs £57, e-bikes are available from £150. Departures are on selected dates between 4th May and 21st September. Grade: Easy. Flights to Amsterdam start from £77 return with Easyjet or go by Eurostar to Amsterdam. This tour is offered on two different barges, the 'Magnifique' and the 'Fluvius'.
3. Majorca, Spain

Far removed from the conventional image of Majorca, this 7 night, self-guided tour covers the authentic and untouched side of the island. With its warm, sunny climate early spring is a wonderful time to visit when the almond blossom is out, as is late spring when the cherry trees are flowering. Over 175 miles, this 7 night self-guided tour follows a circular route around Majorca, the largest of the Balearic islands. Discover quiet deserted bays, picturesque fishing villages, windmills on the horizon and pristine beaches, ideal for post-ride swims. The tour begins tracing the coastline before heading inland to Manacor and through to Muro and Inca to the mountains of the Sierra de Tramuntana. Don't be intimidated that this is where Bradley Wiggins spends half his year in training; this self-guided route is aimed at regular cyclists and suitable for most ages and levels of fitness.
How much? This 7-night, 175-mile self-guided tour starts from £658 per person, including half board, luggage transfer, maps and route information, a paella lunch, transfer over the Tramumtana Mountains and a tour in Palma Mallorca. Bike hire costs £67. Departures on any Friday from 8th March to 14th June or from 6th September to 11th October. Grade: Moderate-challenging. Flights to Palma de Mallorca start from £32 one-way and airlines include British Airways, easyJet, Monarch and Iberia.
4. Sardinia - Leisurely

Is cycling in Sardinia Italy's best kept secret? Set your sights on Sardinia for a leisurely cycling holiday and be at one with nature beneath blue skies and beside blue seas. To see the best of Sardinia's flora you need to visit in spring. The romantic beauty of south western Sardinia will capture your heart as it did author DH Lawrence, who was so inspired by his travels in the 1920's, that he wrote one of his few travel books, 'Sea and Sardinia'. This 10 night, hotel and cycle tour allows you to explore at your own pace. Many of the cycling routes use roads with little traffic and the beauty is there is cycling for all different skill levels and abilities. Some of the highlights of this fantastic tour are the dramatic Costa Verde and the vast dunes of Piscinas, the old mining village of the Sulcis and the charming Southern Coast.
How much? This 10-night, 162-mile self-guided tour starts from £735 per person on B&B, including accommodation in a mix of 3* hotels and Agriturisimo, luggage transfer and maps and route information. Bike hire costs £123. Departures on any Saturday year round. Grade: Easy-Moderate. Flights to Cagliari start from £29 one-way and airlines include British Airways, easyJet and Monarch.
5. Algarve, Portugal

This year-round 7 night, self-guided tour allows you to really immerse yourself in the destination, along the relatively new dedicated cycle route, 'Ecovia do Litoral', linking Cape St Vincent, Sagres, in the west to Vila Real de San António close to the Spanish border. Following in this direction also takes full advantage of the prevailing winds helping you along the way! The route combines exploring coastal countryside and old fishing villages with trails in nature protection areas and long traffic free stretches. Each day, you will stay in a different hotel located within easy reach of a choice of restaurants to eat out and towns to walk around, such as the traditional village of Boliqueime and Praia da Rocha.
How much? This 7-night, 134-mile self-guided tour starts from £788 per person on B&B in April and May and includes accommodation in 3 star hotels, airport transfers, luggage transfer, maps and route information and bike hire. Departures daily, year round. Grade: Easy-Moderate. Flights to Faro start from £38 one-way and airlines include British Airways, Monarch and easyJet.
For more information call Freedom Treks, visit freedomtreks.co.uk.