Smarter, simpler, faster eurostar.com is coming soon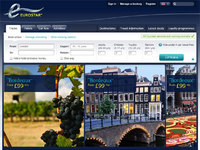 Eurostar, the high speed rail service between the UK and mainland Europe, is launching a smarter, simpler and faster eurostar.com from 19 March 2013. The new site will feature a modern look and feel and an enhanced layout to transform and speed up the booking process for passengers.
Simpler, Faster Bookings
In response to customer feedback and in line with industry best practice, the new eurostar.com will offer passengers a simpler and quicker booking experience, with a dramatic reduction in the number of booking steps. For example, customers who book Eurostar's popular London to Paris tickets will be able to make the transaction in around half as many steps and twice as quick. A new 'express check-out' function will also speed up the booking process as customers can choose to save their card details and re-use them when purchasing a journey.
Clearer price displays
Fares will be displayed more clearly with an intuitive daily/weekly/monthly price view, making it easier for passengers to search for the best prices. It will also be easier for customers to see an at-a-glance breakdown for different passenger types, for example senior or child fares.
Travel further afield with Eurostar
Reflecting the increase in passengers travelling further afield by high-speed rail, the new eurostar.com will feature an enhanced booking process for connecting destinations. Travellers will be able to book their entire journey from over 300 stations in the UK to hundreds of destinations across France, Belgium, the Netherlands, Switzerland and Germany in just a couple of clicks. The site will also feature more destination content for popular cities such as Amsterdam, Cologne and Marseille, alongside practical information and maps to help passengers connect smoothly between Eurostar and other rail operators.
Tailored to you
The new Eurostar.com has been carefully designed to be more responsive to customers' personal needs and preferences. It will also be easier for Eurostar's Frequent Traveller and Plus Points Members to manage their accounts as the new website will display loyalty points as part of the booking statement.
Nick Mercer, Commercial Director for Eurostar, said: "The transformation of eurostar.com is key to the future of our business. We now live in a fast moving digital world where billions of online transactions are made worldwide every minute, so it's essential that our digital offering meets changing customer needs.
"The new eurostar.com marks the start of our investment into digital and over the coming months customers will see a raft of new features to the site. We are committed to offering excellence at every step of the journey from booking to on-board, and we will continue to invest in our service to ensure it offers customers the best possible travel experience."
The transformation of eurostar.com is part of a wider investment into Eurostar's business. This includes a £700m fleet investment programme including the refurbishment of the existing Eurostar sets and the purchase of 10 new trains, which is on schedule to be completed by 2015.