Get grafty at the Greystoke Cycle Café this Easter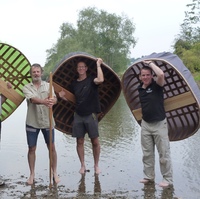 Brand new quirky family days focused on doing something that's not run-of-the-mill or expected as a family can be enjoyed this Easter at the idyllic Greystoke Cycle Café, near to Penrith in Cumbria - home to the Quirky Workshops that have already helped hundreds of adults develop brand new skills and interests.
The Easter programme (including courses for both adults and children this year), runs from April 2 to 14 and features equine-focused drawing and painting, scone making, wrist warmer knitting, green wood pole lathing, Spring watercolour painting, family pottery, traditional coracle building and blacksmithing.
Some of these experiences are all-day Quirky Workshops, while others are morning or afternoon sessions. Depending on their duration, the workshop may include lunch, or comprise refreshments in the form of a drink and a biscuit.
Greystoke Cycle Café is located in a charming Cumbrian village and is on the C2C cycle route. It welcomes cyclists between Easter and the end of September, giving them use of a barn to dry out, take on some liquid refreshment and carry out tyre repairs. This brings a real buzz to the café where a warm welcome is assured for all.
The Easter programme at the Greystoke Cycle Café is running as follows:
April 2 Drawing and Painting the Horse with Alex Jakob-Whitworth

Running from 9.30am to 4pm, this workshop is ideal for equestrians and those fascinated by the grace of the horse alike and costs £65 for adults, £45 for 18-24 year olds and £25 for children.
April 3 Scone Making with Gill Harris

This yummy course runs as either a morning (9.45 to 12.30) or an afternoon session (1.30 to 4.15), The session costs £30 for adults and £18 for 11-18 year olds, with the price including plenty of scones to take home!
April 9 Beginners Knitting: Wrist Warmers with Marion Woolcott

Children and their parents can discover the joy of knitting on this 9.30am to 3.30pm course that includes lunch and refreshments and costs £64 for adults and £25 for children.
April 9 Green wood Pole Lathing with Chris Helliwell

Boys and dads (though girls and mums are equally welcome) will love learning how to work green wood in this hands-on session running as either a morning (9.30am to 12.30pm) or afternoon (1.30pm to 4.30pm) workshop costing £35 for adults and £20 for 14-18 year olds.
April 10 Watercolours in Spring with Margaret Jarvis

Participants in this workshop can capture the glories of Spring in watercolours, whether they are beginners or painters at an intermediate level. The workshop runs from 9.30am to 3.30pm and costs £64 for an adult and £25 for a child, including lunch.
April 11 Family Pottery: Have a Go with Claire Farley

Great family time can be spent creating pottery ducklings and more on this fun journey into the world of clay running from 9.30am to 12.00 and costing £25 for adults and £12 for children.
April 11 Traditional Coracle Building with Mark Aplin

This full day's adventure into one of the craft world's most exciting theme runs from 9.15am to 5.30pm and costs £85 for an adult and £45 for a child.

In teams, you will build a coracle using an array of DIY skills. At the end of the day, the group will head to Ullswater for a test paddle and a celebratory drink!

April 14 Blacksmith for A Day with Adrian Woods

This exciting journey into the traditional world of the blacksmith starts at 9.30am and ends at 4pm with limited places for 16-18 year olds available.

Participants can choose from making candleholders, birdfeeders, dragon hooks, roasters, pokers and more over the day that costs £115 for adults and £65 for 16-18 year olds.
Head to greystokecyclecafe.co.uk/workshops for more information about all of the exciting workshops staged at the Greystoke Cycle Café throughout the year.