Renault offer free domestic charging point with new ZOE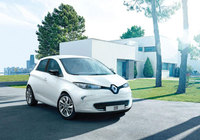 In the lead up to the showroom launch of its 100% electric ZOE on 7 June, Renault has become the first car manufacturer to offer a free domestic charging point with a new fully-electric car purchase.

The free Single Wall-box, supplied and installed by Renault's preferred electric vehicle charging partner, British Gas, is available both to new customers, as well as those who've already pre-ordered ZOE.

This offer makes the most of the recently announced 75% support on domestic Wall-box installations as part of the government's £37m grant funding to increase take up of electric vehicles, with Renault contributing the remaining 25%. The ground-breaking offer will save a typical customer up to £500* and make the stylish 100% pure electric Renault even more affordable and easy to run.

Customers already save up to £5,000 on the price of their electric car from the government's Plug-In Grant. In ZOE's case, this brings the car's on-the-road price (£13,650 to £14,750 depending on trim level) down to an equivalent diesel supermini and becomes yet another incentive to make the switch to electric and 'Drive the change'.

British Gas will install a 32 amp (7kW) ZE ready Single Wall-box with all new and pre-ordered purchases, and have it fully operational ready for owners well in advance of charging their eagerly-awaited pure electric ZOE at home for the first time.

The process will be seamless. When customers place a ZOE order, British Gas will be informed straight away. They will then simply contact customers to arrange a convenient time for a home survey and installation, approximately one month before delivery of the car

Renault believes that around 90% of charging will take place at home, with ZOE's battery able to be charged from completely flat to fully charged in just three and a half hours with the Single Wall-box. As an added 'green' bonus, the 'data-enabled type 2 Wall-box also allows customers to see how much energy the car is using and the comparable emissions savings they are making via an online app. ZOE can also be fast charged to 80% of its capacity in just 30 minutes using public Rapid-Charger 43kW power sources.

The Single Wall-box can be installed at any UK residential address with a GPRS signal, and has an attached lead, meaning that drivers don't have to delve into the boot at night to find the cable to plug in. The cable is 4.5 metres long, ensuring that even customers with off-street parking will be able to charge their ZOE easily. Also included in the package is free access to the public charging network across the UK.

Commenting on its latest initiative, Renault UK's Andy Heiron, Head of Electric Vehicle Programme, said, "We've been delighted with the level of interest the British public have already shown in ZOE, recognising the major steps forward it makes in electric vehicle technology. Adding a free Wall-box to its chic styling and tempting pricing now makes it an even more irresistible proposition."

Andreas Atkins, head of electric vehicle services at British Gas, said: "We are delighted to provide ZOE customers with safer, faster, convenient home charging, giving them access to public charge points across the country. In addition the data enabled unit will give customers the ability to view their energy usage and carbon savings – this is a great step forward in making owning and running an EV more affordable."

ZOE, the spearhead of Renault's four-strong 100 per cent electric vehicle range is stylish, affordable and practical – perfect for households whether they're commuting, doing supermarket and school runs, or even doing moderate distances. ZOE's official NEDC range is 130 miles, with a real-world range of around 90 miles in temperate conditions or 60 in cold weather.

Renault has chosen British Gas as its preferred electric vehicle charging partner due to their experience and expertise at installing and maintaining charging points in the UK residential and commercial market since 2011.