Chris Hoy stars as all-new Mazda6 diesel makes racing debut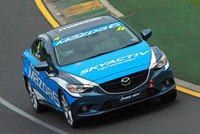 One of the star drivers contesting the inaugural 'Mazda6 Celebrity Challenge' this weekend was six-times Olympic champion, Sir Chris Hoy MBE. The British cycling ace was among 21 celebrities taking part in three supporting races to the Rolex Australian Grand Prix around Melbourne's spectacular Albert Park race track.

Both the all-new Mazda6 and the 36-year old Scot were making their motorsport debuts at the 3.3-mile street circuit, racing in five-lap events on three successive days. For the competition debut of Mazda's clean diesel technology, the evenly-matched fleet of 137mph Mazda6 saloons featured standard 2.2-litre SKYACTIV-D engines producing 175ps and 420Nm of torque.

"The Mazda6 Celebrity Challenge in Australia was great fun and provided the perfect showcase for Mazda's clean diesel technology," comments Jeremy Thomson, Managing Director, Mazda UK. "The event captured the 'defy convention' spirit at the heart of Mazda and put a fresh spotlight on our brand in a country where Mazda is already very popular and the Mazda3 topped the new car sales chart last year."

Completely standard, the all-new Mazda6 saloon racecars were fitted with additional safety equipment to comply with FIA regulations including a full roll-cage, Sparco race seat with six-point safety harness, external battery 'kill' switches and race compound brake pads. The cars retained their six-speed SKYACTIV-DRIVE automatic transmission with steering wheel paddle-shift selectors and ran on regular, grooved road tyres.

The only British competitor in the event, Chris Hoy qualified a promising third during Thursday's practice session, finished fifth on Saturday (from a 20th place start) and stormed to a great second place finish in Sunday's final.

"I am delighted with today's performance; it was the most fun I have had in the car ever," enthused Hoy. "After Saturday's charge through the field, passing 15 cars, I even had hopes of maybe winning the final, but Brad Hodge has been so consistent and he was ultimately out of reach and I had to settle for the runner-up spot."

The three-race Mazda6 Celebrity Challenge was won by former Australian test cricketer Brad Hodge who convincingly took overall honours by winning every race with celebrity chef Shane Delia and star actor Jonathan LaPaglia (Law & Order and NCIS) rounding out the podium.

Women drivers also performed well with Australian hero Olympic cyclist Anna Meares finishing fourth overall – the leading female in each race – and Holly Candy (nee Valance, formerly of Neighbours) singer of the chart-topping single Kiss Kiss, playing a starring role.