Sharon Stone and Andie MacDowell set to christen two new river ships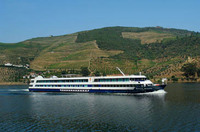 Hollywood legends Sharon Stone, Andie MacDowell and singer Michael Bolton are jetting to Portugal's Douro River this week to christen two new luxury river ships for DouroAzul - Portugal's leading river cruise company.
Sharon Stone is rumoured to be accompanied by her boyfriend, 27 year old, Argentinian model, Martin Mica.
Andie MacDowell will be using the glamorous bash to introduce her 23 year old daughter, Rainey Qualley, to the European media. Rainey has already made waves in Hollywood as a singer and actress, staring alongside her mother in 2012 film, Mighty Fine.
The event will see European celebrities and dignitaries hit the red carpet for a star-packed Gala Ball and singer Michael Bolton provide a night of entertainment.
The stars are guests of honour of luxury cruise company DouroAzul and will raise awareness of the beautiful - but largely undiscovered - Douro region of Portugal, a UNESCO World Heritage Site.
Mario Ferreira, CEO of DouroAzul, was named Portuguese Business Man of the Year by the Portuguese luxury lifestyle magazine, Lux, last week.
He said: "The city of Porto is buzzing with excitement ahead of welcoming Hollywood royalty to our launch this week. Our two new luxury ships are guaranteed a most glamorous christening with Sharon, Andie and Michael in tow."
"UK holidaymakers will be able to enjoy our fleet of 12 luxury river ships, barges and yachts like celebrities, while experiencing an awe-inspiring voyage in 2013."
For more information see douroazul.com.