MG6 DTi-Tech has proved it's the perfect towing partner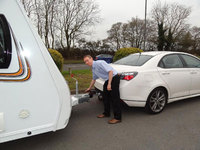 German autobahns, the Spanish Pyrenees and tens of thousands of miles of British roadways are part of the incredible story which has made the new MG6 DTi-TECH diesel the perfect towing partner.

The MG6 GT and MG6 Magnette diesels can now add a maximum towing weight of 1,600kg to their long list of attributes. The news means that the latest MGs will appeal to thousands of Britain's caravanners and trailer towers.

But behind the cold maximum towing weight statistic is an international engineering story involving hundreds of hours of computer testing and thousands of miles of shake down tests to near destruction limits.

After an intensive year-long development programme by engineers at SAIC Motor's European Technical Centre at the MG Birmingham site (known as SMTC UK), the MG6 DTi-TECH has emerged with flying colours.

Kevin Fisher, a Body-In-White engineer, said: "You can't just bolt a tow bar on a car. Most people probably have no idea just how much work has to go into making sure it works properly and safely with the car.

"Many of hours were spent on computer modelling before we even put a car and dyno test rig on the road. Then we subjected the car to a massive range of the toughest testing you could think of – far more than any owner would ever do in real life."

High speed swerve manoeuvres, flat out acceleration sprints and emergency brake tests inflicted maximum stress loads on the MG6 DTi-TECH chassis during proving ground testing with a caravan. Repeated stationary hill starts with five adult passengers, a fully loaded boot and a maximum weight 1,600kg trailer on a severe 12% steep 'torture hill', inflicted enormous pressure on the car's clutch and drive train.

Huge weights and pressures were brought down on the tow bar and rear of the car in a series of vertical, transverse and longitudinal tests with up to 60,000 repetitions to replicate the MG6 driving on some of the worst road surfaces in the world.

Hot climate testing was carried out on the twisting roads of the Spanish Pyrenees with the MG6 DTi-TECH towing a 1,600kg dyno trailer followed by hundreds of miles of fast autobahn driving in Germany.

Finally MG6 DTi-TECH cars spent 10,000 miles carrying out towing durability tests with loaded trailers across a mixture of British motorways, A-class roads and pot-holed country lanes.

Almost every engineering discipline within SMTC UK, including body-in-white, power train, electrical, cooling and calibration specialists, were involved in the development of the MG6 DTi-TECH for towing. Experts from Witter, the UK's leading tow bar manufacturer, were also involved in the vast testing programme.

Kevin Fisher said: "The MG6 DTi-TECH is now the perfect partner for towing. It's got real pulling power and far more muscle than many people might imagine – our testing programme has proved that."

The MG6 DTi-TECH models are powered by 1.9-litre turbo diesel units. They have common rail direct injection and a variable-rate turbocharger which means that they have the latest engine technology. And unique to the diesel versions are Stop-Start technology, which improves economy by a further 5%, and Smart Charging. This is a system which saves energy by only supplying power to certain electrical components when it is actually needed.

The new 1.9-litre DTi-TECH variable rate turbocharged diesel engine delivers 150PS. That gives an impressive 0-62mph time of just 8.9 seconds and a maximum speed of 120mph.

The DTi-TECH diesel really stands out by offering the highest pulling power (350Nm of torque) with the lowest insurance group (14E and 15E) in the market. Prices for MG6 DTi-TECH diesels start from £16,995.