Budget extends tax-appeal of Vauxhall Ampera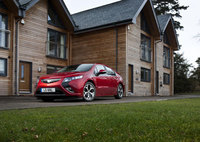 Vauxhall welcomed the announcement in the Budget that Ultra Low Emission Vehicles (ULEVs) with 0-50g/km CO2 emissions, such as its revolutionary Ampera, will remain at five per cent Benefit-in-Kind (BiK) in 2015-16 tax year, rising to seven per cent in 2016-17 tax year.

This means 27g/km Ampera Earth-owners paying higher rate tax will now save around £2,200 in tax over a four-year period*.

Versus the 'green' competition, Ampera BiK savings speak for themselves. The cutting edge extended-range electric vehicle saves £5,559 against an Audi A4 2.0TDIe 163 SE 4-dr, £4,865 on a BMW 320d Efficient Dynamics 4-dr and £1,657 versus a Toyota Prius 1.8 VVTi T3 5-dr CVT**.

'We are delighted the Government has introduced the 0-50g/km bracket in which our cutting edge Ampera is classified,' said James Taylor, Vauxhall's Fleet Sales Director. 'Creating this ultra-low carbon band means BiK rates stay at their lowest for company drivers looking to choose an Ampera and companies looking to add a to their company car choice list can do so with confidence now the Government's ULEV BiK strategy is confirmed until 2020.

'The additional step of extending first year capital allowances to 2018 for vehicles emitting less than 75g/km shows the Government recognises the impact this significant cash flow benefit has on companies fleeting ultra-low carbon vehicles.'

Arriving in UK showrooms last year, Ampera has a real-world battery range of between 25-50 miles, after which a small range-extending generator intervenes to provide up to an additional 300-plus mile range. At all times, the Ampera's wheels are electrically driven, setting it apart from conventional hybrid vehicles.

Ampera pricing starts at £29,995 on-the-road (including £5,000 Government grant) for the Earth model. The car is available through a network of 24 specialist Vauxhall dealers and is covered by the manufacturer's industry-leading Lifetime Warranty.

The revolutionary vehicle is also offered on the 3-Day Test Drive programme through which customers can test a Vauxhall for three days, without paying a penny more than the fuel used.

*Based on Ampera Earth with P11D value of £34,940 and 40% tax payer over 4 year period. With BiK annual rates of 5%, 5%, 13% and 15% total BiK taxation paid would have been £5,310 versus the newly announced rates of 5%, 5%, 5% and 7% respectively where total BiK taxation paid will be £3,074 – a saving of £2,236.

**Benefit-in-Kind saving quoted is based on models shown, 40% tax payer, 2013-14 to 2016-17 tax years.