Crank cycling up a gear and race under Iceland's midnight sun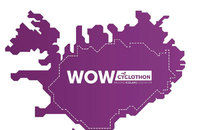 For the second year running the WOW Cyclothon will see keen cyclists competing to be the fastest team to pedal around Iceland's Highway 1, a ring road that loops around the entire country - a whopping 827 miles.

The non-stop relay race is the only one of its kind in Iceland, taking place from 19 - 22 June 2013, when the sun never sets.
Each team includes four cyclists and up to two drivers and last year's winners finished in a very respectable 40 hours 57 minutes.
WOW air is offering all Brits free bikes onboard its aircraft when they book a return flight from London Gatwick to Reykjavik for the Cyclothon.
"Cycling is a very popular sport in Iceland, as well as internationally, so I wanted to take advantage of our country's 22 hours of daylight and stunning landscape by creating a challenging biking competition that has the WOW-factor", says Skúli Mogensen, WOW air's CEO and founder.
As the main sponsor WOW air will provide the prize for the winners; flight tickets for each member of the winning team.
An average speed of 19 miles an hour will see the teams cross the finish line in less than 48 hours.
WOW air's direct route between Gatwick and Reykjavik costs from just £95 one way, which includes taxes and hand luggage allowance (one bag measuring 56cm x 45cm x 25cm) plus handbag and duty-free shopping bag.
WOW air promises to provide its passengers with the lowest price, the newest planes in Iceland and the biggest smile. The airline offers a complete experience during the two and a half hour flight, with humorous on-board announcements and friendly cabin crew dressed in purple.
WOW air is also pleased to announce that it will be increasing its fleet of Airbus A320s and introducing two new aircraft from 6 April 2013.
For more information on the WOW Cyclothon, visit wowcyclothon.com. For more information or to book please visit wowair.co.uk.