Fastest Vauxhall estate ever melts away winter blues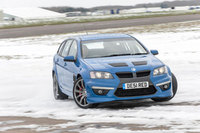 Following the Midlands' white-out last weekend, the only drifting that occurred in Leicestershire shortly afterwards was generated by a 6.2-litre, 431PS V8 behemoth as it burnt away the remaining snow at Bruntingthorpe Proving Ground.

Officially known as the Vauxhall VXR8 Tourer, it's part of the VXR8 range (which includes the saloon and Maloo pick-up) and is the UK's largest estate car by load volume, as well as one of the world's most powerful wagons.

Costing £49,500, the VXR8 Tourer shares the same 431PS powertrain as its VXR8 saloon and Maloo siblings. In performance terms, this translates to a 0-60mph time of 4.9 seconds and an electronically limited top speed of 155mph. It also makes it the fastest Vauxhall estate the company has ever produced.

Drive is delivered to the rear axle of the VXR8 Tourer via the latest MM10 six-speed manual gearbox with uprated LS7 clutch or a six-speed auto 'box, each working through a mechanical limited slip differential.

And there's no better chassis than the VXR8 Tourer's to cope with this level of performance. Like the VXR8 and Maloo, the Tourer uses MacPherson struts/progressive rate coils at the front and a multi-link independent set-up at the rear. Standard launch control helps drivers make best use of the Tourer's huge torque during brisk acceleration without unnecessary wheel-spin.

But the VXR8 Tourer is not just about raw performance and a sophisticated chassis. With an 895-litre cargo volume, increasing to 2,000 litres with the rear seats folded down, it becomes the UK's most capacious load-lugger, and a perfect device for swiftly transporting up to five people and their luggage.

They'll travel in exceptional comfort, too. Full leather trim is standard and front occupants are cocooned in special HSV Performance Seats with eight-way adjustability. Also standard are 20-inch Pentagon alloy wheels; two-coat metallic paint; Bi-Modal exhaust (controlled via EDI system); Aux-in/USB inputs; iPod support and Bluetooth with phonebook display and touch-screen dialling.

Vauxhall's EDI, or Enhanced Driver Interface, is carried over from the VXR8 too. EDI connects with the on-board computer to constantly stream real-time vehicle dynamics and performance to the car's main 5-inch monitor. At the touch of a screen, drivers can access a variety of data such as vehicle G-forces, power, torque and lap times – even the degree at which their VXR8 Tourer is drifting. Completing the clever package is the ability for drivers to download data, such as track day performance, and analyse it using the MOTEC i2 software provided.

Like all Vauxhall's, the VXR8 Tourer is covered by Lifetime Warranty, which offers first owners the peace of mind for as long as they keep the car, up to a maximum mileage of 100,000 miles.