Geneva jewel to be on show at Infiniti Centre Birmingham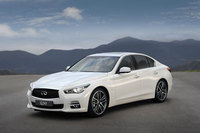 Infiniti Centre Birmingham is to have an international star on display. Following its debut at the Geneva Motor Show last month, the new Infiniti Q50 is to make an appearance at Infiniti Centre Birmingham from 5-7 April. This is a part of a UK tour, five months ahead of its official arrival date and the first of many Q50 opportunities.

The Infiniti Q50 is a premium sports saloon and represents a major step forwards for the Infiniti Centre network. Centre manager David Topham explains why: "The Q50 is the first Infiniti vehicle that has been produced with the European market in mind and as such allows us to appeal to a much wider audience than we have ever been able to before."

With a 2.2-litre four cylinder diesel engine that emits under 115g/km CO2 it has been designed around the needs of both private and business customers. It can provide fuel economy in excess of 65mpg while still maintaining a good level of performance, with 170 PS of power and 400Nm of available torque. This super-efficient engine ensures low tax and running costs with a starting price of just £27,350.

The other technologically-advanced engine available is a sophisticated petrol V6 hybrid. It is the more performance biased of the two engines with acceleration from 0-62mph to be under 5.5 seconds but with CO2 below 145g/km and fuel economy of around 45mpg it will still attract low taxation. This engine is also available with a four wheel drive option.

However, the Q50 is not just about the engines, it has everything expected from a premium product, a fresh and modern look with a top class Japanese-influenced interior plus leading-edge technology taking the driving experience to a new level.

Topham continued: "Infiniti says it wants to be the number one Japanese premium brand, and you can believe it when you see the Q50. I will be delighted to welcome everybody to come and view the new Q50 during this VIP event but to ensure we can accommodate you please call us on +44 (0) 121 766 1470 to make a reservation."

The Infiniti Q50 is available to order now with deliveries expected in the autumn.