Cash-in at Taylor Wimpey across the east of Scotland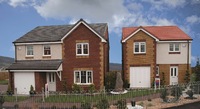 Your cashflow doesn't need to be in short supply if you buy a new home at one of Taylor Wimpey's selected developments - with buyers currently able to cash-in on a superb deal that will pay them £600 a month* for 12 months. There are five developments participating in this superb incentive on selected new homes offering prospective customers a choice of desirable locations to call home.
Buyers interested in a move and this great deal can choose from Abbey Grange in Arbroath, Fordell Lea in Dunfermline, Ferrier Path in Armadale, Heartlands as well as Redmond Brae in Kelty.
Taylor Wimpey's impressive portfolio of two, three, and four bedroom new homes offers a great choice for a broad range of buyers and their budgets – making it a great choice for buyers looking to get on the move now.
Karen Armstrong, sales and marketing director for Taylor Wimpey East Scotland adds: "As we all know, our lives and our circumstances are constantly changing – we get married, we have a family – we're always evolving. Our desire to move or change property is often driven by life stage, and our offer to give buyers £600 a month to spend in whichever way they wish for the next 12 months is a great way to maximise the type of new home they can afford right now, or perhaps be able to enjoy some of life's little luxuries.
"This generous offer is designed to give customers some confidence in their ability to maximise their next move whether that's up or down the property ladder, and live life to the max!
"Customers will still need to meet affordability criteria, and we advise all our customers to think carefully about how much they are borrowing and their repayment schedule. Customers who are keen to take advantage of this offer are required to discuss their circumstances with our independent financial advisor."
There are a variety of other schemes also available from Taylor Wimpey on selected new homes at these featured developments including its helpful Part Exchange or Easymover incentives that aim to make moving to a new home easier than ever. Or for first-time buyers, the Easystart Shared Equity scheme offers them a chance to step onto the ladder and pay just 85% of the price now!
Karen Armstrong adds: "One of the many advantages of a new build property is that we can offer a variety of incentives and schemes suitable for all types of buyers. I'd urge anyone who wants to move but thinks they can't afford the deposit or are having difficulty selling their existing home to visit one of our developments today. Our experienced sales executives will be able to talk you through the options and incentives available and you could be moving into your dream home before you know it."
For more information, visit taylorwimpey.co.uk/eastscotland.
*£600 paid per month from legal completion for 12 months inclusive. Available on selected new homes only at Abbey Grange, Fordell Lea, Heartlands, Ferrier Path and Redmond Brae.