Surf, sight-seeing and sea air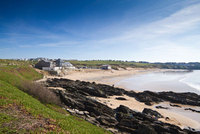 While the rest of the country huddles indoors waiting for the warmer weather to finally arrive, the outdoor mecca that is Newquay, Cornwall, makes for the ideal invigorating and rejuvenating springtime escape.
Breathe in the fresh Atlantic air and brace yourself for spectacular wave-watching, jaw-dropping sunsets, beautifully bracing beach and riverside walks and a diverse choice of some of the very best dining, accommodation and activity options that Cornwall has to offer.
Spring is the ideal time for a short break in Newquay. Before the summer crowds come flocking, the town's seven beaches are wide open with both sea and land boasting many things to do. Newquay has the perfect mix of outdoor activities, world-class attractions and stunning natural beauty. There couldn't be a better time to explore the town's hidden gems ahead of the influx of summertime visitors.
Relaxing spa break:
If you're looking to unwind then look no further. Newquay is one of the few places in the UK in which a single day can include such a wide spectrum of chilled-out activities all within walking distance of one another.
Enjoy a luxurious massage or beauty treatment in a local spa, and then if the sea is too nippy, sink into a heated pool, lie back in a bubbly Jacuzzi, and soak up the atmosphere in a steam room or sauna. When you're finished relaxing, why not tuck into a sumptuous cream tea or a selection of homemade cakes at a picturesque local tea room.
Exhilarating activities break:
Newquay's rugged Cornish cliffs and spectacular surf make it the perfect location for an awesome action sports holiday. Famed for its reputation as the UKs wave-riding capital, this surf town provides everything thrill-seekers need to have a memorable getaway packed with adrenaline–fuelled fun.
The seven town beaches offer ideal conditions for extreme sports, so why not start by working on your surf technique with a one-to-one lesson. If you fancy something different, try the newest craze of stand-up paddle boarding or take to the waters in a sea-kayak to explore hidden coves and discover secret islands. Or why not raise your adrenalin levels by zip-wiring across a cove and making like a commando on a cliff-top obstacle course.
Family fun break:
Newquay offers the largest concentration of family friendly facilities and pursuits in all of Cornwall. Kids can get the most from the beach and coastal environment in a fun, active, safe and educational way. They can take part in lessons about eco-coasteering and beach safety, as well as rook pool safaris and family body-boarding lessons.
For more information, see visitnewquay.org.