Give the kids a safety boost with Seat Young Driver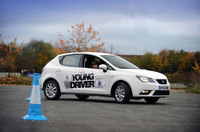 The next generation of drivers will be able to get some vital early experience under their belts thanks to the latest event from SEAT-sponsored Young Driver.

The April 21 Driving Skills event is aimed at anyone aged 11 to 17, and who has previously had three lessons with SEAT Young Driver. It will be held at the Prodrive proving ground in Warwick.

The half-day experience costs just £95, although a 10% discount is available for anyone who calls to book early (on 0844 371 9010) and uses the code DS10.

During the event, young drivers will get to experience:
ABS braking on wet, snowy and icy roads on the wet grip facilities
Brake and avoid emergency manoeuvres and a demonstration of ESP safety systems on the special dynamic training area
Motorway driving on the proving ground's main test track
A test of steering skills on a special road system
An interactive short talk on safe driving and what to do in an emergency

As well as being taught by one of Young Driver's experienced ADI driving instructors, participants will also hear a short talk on road safety from a Road Safety Advisor from West Mercia and Warwickshire police.

The event follows the extremely successful Winter Driving course run by Young Driver at the end of 2012, which saw 76 drivers aged 17 and below put in dozens of hours behind the wheel at the Prodrive proving ground.

Aside from being a chance for an eager future-driver to get behind the wheel early – and in a SEAT Ibiza, which adds to the appeal, naturally – the Young Driver course gives parents the extra peace of mind that comes with knowing their child has gained vital experience even before their first 'proper' lesson.

In fact, a study by Young Driver has shown that the course does have a positive effect on accident rates: a questionnaire sent to previous participants of the course, who had held a licence for six month or more, showed that fewer of them had been involved in an accident than the national average.*

Over 60,000 young people have taken a SEAT Young Driver course since it began in October 2009, with each having been given the vital basics of driving before reaching their 17th birthday.

Young Driver uses a fleet comprising SEAT Ibiza, Ibiza ST and Mii models, all of which boast class-leading dynamics, compact dimensions, comprehensive safety features and stunning styling, making them the perfect introduction to driving for anyone.
*Of respondents, 9% of Young Driver participants crashed within the first six months, while the national average crash rate for that period is 20%.