HMC to host exhibition from the Guild of Motoring Artists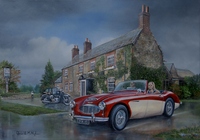 The Heritage Motor Centre is to host a special exhibition from the Guild of Motoring Artists from the 27 April – 3 June. The exhibition will feature over 60 artworks of pictures and sculptures of British cars from 15 different artists in many media and styles.
The Guild of Motoring Artists (GMA) began as a group of professional artists from the car industry who shared a common interest in automotive art. The GMA first started in 1986 and over the years has attracted some of the best and diverse automotive artists through its membership, exhibiting around the UK and in the USA.
The GMA exhibited at the HMC back in 2004 and are returning to support several events including their exhibition depicting 'British Motoring Heritage' over the last century with miniature art, workshops and demonstrations for beginners to professional artists. The art on display will focus on the British automobile industry and will also display makes and models from around the world.
All the artwork will be available for sale. Artists will also be happy to accept commissions for any automotive subject matter.
Museum entry fees are: Adults £12, Child £8 (5-16 years) under 5 free, Concessions £10 & Family £34 (2 adults & up to 3 children). For more information visit heritage-motor-centre.co.uk.
For more information on the Guild of Motoring Artists visit the website at motorart.co.uk.