Cheshire 'eco mansion' finalist in NW Building Excellence Awards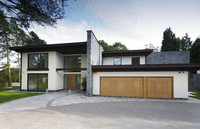 A Cheshire based property, dubbed 'the next generation of luxury home', has been selected as a finalist in The LABC North West Building Excellence Awards for 'Best Individual Dwelling'.
The contemporary styled 'eco-mansion' is situated in the prestigious village of Prestbury and is the latest creation from Cheshire homebuilders, Hillcrest Homes.
The LABC Building Excellence Awards were established to recognise a high standard of design excellence, innovation and creativity on technically challenging projects.
'Sleepy Hollow' is a 10,000 sq ft environmentally respectful property featuring bold and highly individual architecture features. It was designed in partnership with Wilmslow based architecture practice 'The Cave'.
The property satisfies the extensive 'luxury home' criteria expected from those buying at the top of the market – five en-suite bedrooms, swimming pool, spa, sauna, CCTV, intelligent home system, home cinema – yet balances the running costs and environmental impact of these features through sustainable design and material choice, and proven renewable energy technology.
Sleepy Hollow occupies a tree-lined site at the end of a 150m drive. Rather than follow common developer practice of bulldozing the natural lie of the land into a flat surface for construction, Hillcrest engineered a complex yet more sustainable solution of integrating the design into the site's gentle gradient; thereby reducing waste sent to landfill and cradling the home in the site to provide thermal mass benefits.
The LABC North West Building Excellence Award winners will be announced at a glittering black tie ceremony at the Reebok Stadium in Bolton on 26th April.
If successful, Sleepy Hollow will be the fifth consecutive Hillcrest property in Prestbury to have received a Building Excellence Award.
For more information on Hillcrest Homes and Sleepy Hollow visit hillcresthomes.co.uk.