All-new Mazda6 helps fleets limit April tax rise impact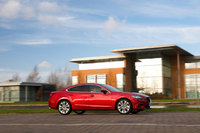 Changes to Capital Write Down Allowances on April 1 impacting on company cars, business costs and cash flow irrespective of whether organisations buy or lease their company cars, play to the low carbon dioxide (CO2) emission strengths of the all-new Mazda6.

The all-new Mazda6 – the third generation of the upper medium sector fleet favourite has just gone on UK sale powered by Mazda's range of high-efficiency SKYACTIV engines including two petrol and two diesels units mated to six-speed manual or automatic transmissions.

Low CO2 emissions, which are critical to keeping company car-related taxes and operating costs in check, are among the many attributes of Mazda's unique SKYACTIV technology.

The further tightening of capital allowance and the lease rental restriction thresholds mean that CO2 emissions of 130g/km become the company car choice list benchmark for businesses wishing to limit the impact of the tax changes.

As a result, the showroom arrival of the all-new Mazda6 means that businesses do not have to compromise on their choice of upper medium sector company cars as all 24 diesel and selected petrol vehicles in the line-up of Saloon and Tourer models are below the 130g/km threshold.

Steve Tomlinson, Mazda's Head of Fleet, said: "160g/km was previously the key CO2 emission threshold for businesses, but the recent tax changes mean a reduction in the benchmark figure.

"Irrespective of whether businesses buy or lease their company cars they are likely to see an impact on both costs and corporate cash flow. However, the impact can be limited by ensuring that vehicles operated are 130g/km or below to maximise tax relief as much as possible."

Tomlinson highlighted: "The all-new Mazda6 makes tax sense for businesses and company car drivers. With emissions as low as 108g/km and with combined fuel economy as high as 67.3mpg - without any sacrifice in performance - the Mazda6 is the new class leader for CO2."

The complete range of SKYACTIV-D diesel engines comprising 2.2-litre 150ps and 175ps units across 24 models in the all-new Mazda6 Saloon and Tourer ranges - including automatic variants - fall below the critical 130g/km mark. On-the-road prices for diesel variants start at £21,795 for the 2.2-litre 150ps Saloon SE through to £28,045 for the 2.2-litre 175ps Tourer Sport Nav Auto.

In addition, four Mazda6 Saloon models powered by the 2.0-litre 145ps SKYACTIV-G petrol engine and mated to a six-speed manual transmission beat the 130g/km CO2 threshold. Prices for petrol models start at £19,595 OTR for the 2.0-litre 145ps Saloon SE, rising to £24,865 for the 2.0-litre 165ps Tourer Sport Nav.

The corporate tax related changes take effect just days ahead of the April 6 further tightening of company car benefit-in-kind tax thresholds. That will see the 10 percent tax rate apply to models with CO2 emissions of 76-94g/km, with the 11 percent tax rate applicable to models with CO2 emissions of 95-99g/km and then rising by one percentage point per 5g/km of CO2 up to a maximum of 35 percent.